Cassandra
ThriftExamples. If you are new to Cassandra and just want to get started, take a look at the available clients ClientOptions (v0.6) instead.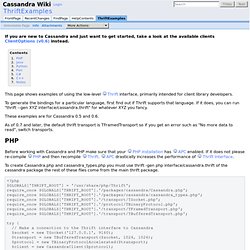 This page shows examples of using the low-level Thrift interface, primarily intended for client library developers. To generate the bindings for a particular language, first find out if Thrift supports that language. If it does, you can run "thrift --gen XYZ interface/cassandra.thrift" for whatever XYZ you fancy. These examples are for Cassandra 0.5 and 0.6. WTF is a SuperColumn? An Intro to the Cassandra Data Model — Arin Sarkissian.
HBase vs Cassandra: why we moved « Bits and Bytes. My team is currently working on a brand new product – the forthcoming MMO www.FightMyMonster.com.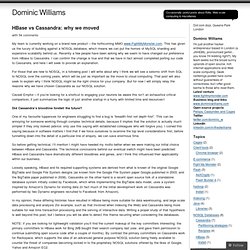 This has given us the luxury of building against a NOSQL database, which means we can put the horrors of MySQL sharding and expensive scalability behind us. Recently a few people have been asking why we seem to have changed our preference from HBase to Cassandra. I can confirm the change is true and that we have in fact almost completed porting our code to Cassandra, and here I will seek to provide an explanation. For those that are new to NOSQL, in a following post I will write about why I think we will see a seismic shift from SQL to NOSQL over the coming years, which will be just as important as the move to cloud computing. Installing Cassandra and Thrift on Snow Leopard – A Quick Start Guide. Update March 25 2010: I will soon update this for Cassandra 0.6 (which is currently in beta).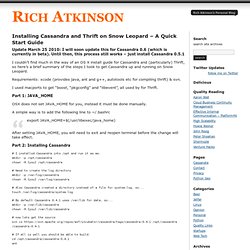 Until then, this process still works – just install Cassandra 0.5.1 I couldn't find much in the way of an OS X install guide for Cassandra and (particularly) Thrift, so here's a brief summary of the steps I took to get Cassandra up and running on Snow Leopard. Requirements: xcode (provides java, ant and g++, autotools etc for compiling thrift) & svn. I used macports to get "boost, "pkgconfig" and "libevent", all used by for Thrift. So, Why is Twitter Really Not Using Cassandra to Store Tweets? A firestorm of accusations circled around recently saying that Cassandra, the elected-by-major-adopters emperor of the NoSQL movement, has no clothes.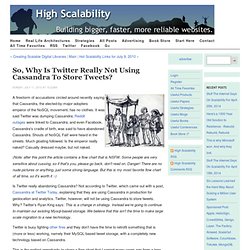 It was said Twitter was dumping Cassandra; Reddit outages were linked to Cassandra; and even Facebook, Cassandra's cradle of birth, was said to have abandoned Cassandra. Shouts of NoSQL Fail! Were heard in the streets. Cassandra | Rich Atkinson. Rich Atkinson Rich Atkinson's Personal Blog Cassandra For my benefit and yours, here is a collection of useful links about Cassandra, the non-relational database.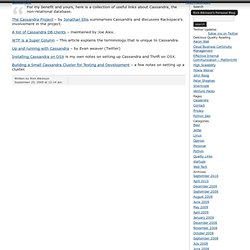 The Cassandra Project – by Jonathan Ellis summarises Cassandra and discusses Rackspace's involvement in the project. Cassandra @ Twitter: An Interview with Ryan King « myNoSQL. There have been confirmed rumors about Twitter planning to use Cassandra for a long time.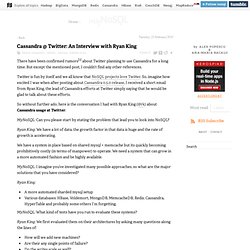 But except the mentioned post, I couldn't find any other references. Twitter is fun by itself and we all know that NoSQL projects love Twitter. The Apache Cassandra Project. ThriftExamples.
---