Cassandra
If you are new to Cassandra and just want to get started, take a look at the available clients ClientOptions (v0.6) instead.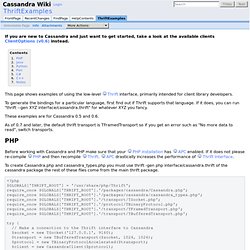 ThriftExamples - Cassandra Wiki
WTF is a SuperColumn? An Intro to the Cassandra Data Model — Arin Sarkissian
Cassandra is the only NOSQL datastore I'm aware of, which is scalable, distributed, self replicating, eventually consistent, schema-less key-value store running on java which doesn't have a single point of failure. HBase could also match most of these requirements, but Cassandra is easier to manage due to its tiny footprint. The one thing Cassandra doesn't do today is indexing columns.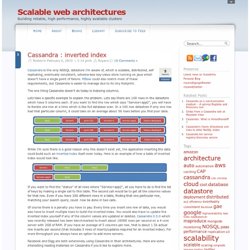 Cassandra : inverted index | Scalable web architectures
HBase vs Cassandra: why we moved « Bits and Bytes.
My team is currently working on a brand new product – the forthcoming MMO www.FightMyMonster.com.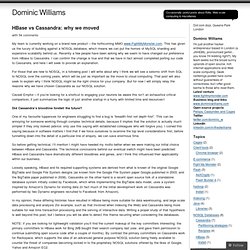 Update March 25 2010: I will soon update this for Cassandra 0.6 (which is currently in beta).
Installing Cassandra and Thrift on Snow Leopard – A Quick Start Guide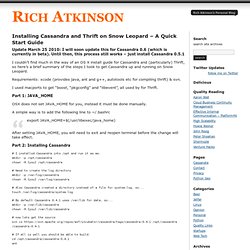 So, Why is Twitter Really Not Using Cassandra to Store Tweets?
A firestorm of accusations circled around recently saying that Cassandra, the elected-by-major-adopters emperor of the NoSQL movement, has no clothes.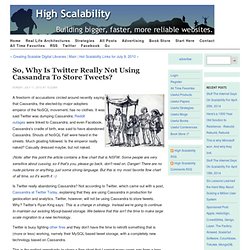 Rich Atkinson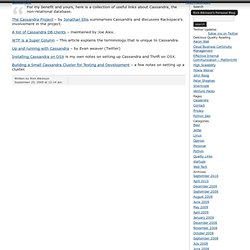 Cassandra | Rich Atkinson
Cassandra @ Twitter: An Interview with Ryan King « myNoSQL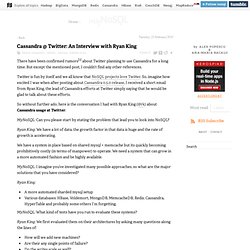 There have been confirmed rumors about Twitter planning to use Cassandra for a long time. But except the mentioned post, I couldn't find any other references. Twitter is fun by itself and we all know that NoSQL projects love Twitter.
ThriftExamples - Cassandra Wiki