News, Analyses, Blogs
Get flash to fully experience Pearltrees
Marketers spend millions of dollars on digital marketing campaigns every day. Analytics help marketers get the most of out of every dollar spent and drive great benefits for them and their organization. Data collected at each step of the way to conversion can help marketers and their agencies in optimizing each campaign's performance. Below I've outlined five tips on how to use the data to optimize marketing campaigns. 1.
Google, by way of Matt Cutts, announced some weeks ago that a special SEO over optimization update will come. Now it's live with its first iteration. Yesterday evening Google also published the article " Another step to reward high-quality sites " with some more insights into the update. Interesting stuff that every SEO should read.
JCPenney, Gap and Nordstrom have all closed down their Facebook storefronts after giving it a go. Senior marketers report they're pulling budget from the channel in favor of directing funds back into their own e-commerce storefronts. Is this just a downswing in F-commerce, still in its infancy, or the beginning of an exodus from Facebook as a direct selling platform? Marketers are returning to the core uses of social media, according to The Pearlfinders Index - Q1 2012 . The results of their interviews with over 4,000 senior marketers spanning IT, Industry/Manufacturing, Financial Services and a range of other industries show that awareness, monitoring, and engagement are currently the top uses for Facebook.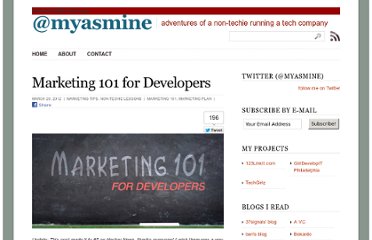 Update: This post made it to #5 on Hacker News, thanks everyone! I wish there was a way to integrate the comments on the thread. To check them out, click here. Since the acquisition was announced in December, I've been inundated with emails from entrepreneurs wanting to meet over a cup of coffee to talk about their idea or startup. Although my time has been more limited with my new position at NetLine, I try to set them up on weeknights or weekends and provide helpful feedback when I can.
Meetings, travel, Le Web and pitches from countless startups have left me exhausted. I have hardly slept for nearly a week. I am tired and a little irritated and in need of a pick-me-up. An espresso shot isn't enough. What I need is a conversation that would sharpen my senses dulled by repetitiveness of ideas and marginality of ambition.