Tut. collections
Messenger Bag. Download this Project Designer: Judi Ketteler From Quilts and More, Fall 2007 Michael Miller's Boho Pistachio fabrics, stiffened with fusible fleece, are perfect for this roomy paisley shoulder bag.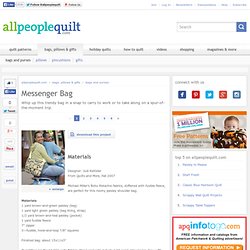 Super cute sewing tutorials. Have you visited Anna Graham's blog Noodlehead yet?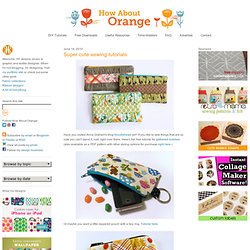 If you like to sew things that are so cute you can't stand it, rush right over there. Here's her free tutorial for gathered clutches (also available as a PDF pattern with other styling options for purchase right here.) Or maybe you want a little zippered pouch with a key ring. TUTORIALS. Sew a bag with the free bag pattern | Sew Easy. Purses, Bags, Totes & Wallet Patterns, Tutorials & More - Craftster.
45 Awesome Free Bag Making Tutorials | frugalandthriving.com.au. Posted on October 7 by Melissa Goodwin · 51 Comments This post has been updated – broken links have been replaced with new awesome bag making tutorials.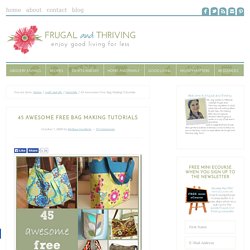 You can get even more bag tutorials in the follow-up post here. When I first wrote this article, I wrote that I wasn't much of a sewer. Since then, I've made quite a few bags from these tutorials. The pictures on the right are some of the bags that I've sewn myself. Purse Week. I know, the name has been taken about 500 times over, but seriously, this is all I could come up with (and before I searched and found a million others called the same thing, mind you!).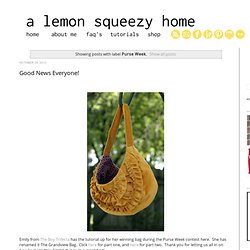 Don't let the pleats scare you (or the length of the tutorial—I just included a LOT of pictures to explain things clearly). The cutting takes more time than the actual sewing does, in most cases! Let's get started! First, print and cut out these four patterns: one, two, three, four. Round off the corners if you desire with the circle on the pattern.
---