Signs of the Times
Your News Right Now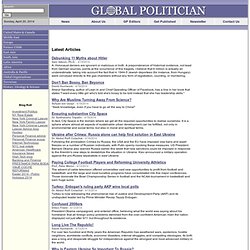 Global Politician: News, Interviews, Opinions and Analysis
Latest Articles Mounting tensions between China and the US Dr. Sudhanshu Tripathi - 1/11/2014 China and the US are once again on the collision course as a new fishing regulation has been outlined by a Chinese island province of Hainan which requires all foreign vessels to obtain prior approval before entering the disputed waters of the South China Sea after brewing tensions over China's setting up its ADIZ covering some parts of Japan's and South Korea's territorial waters in the same disputed waters in the last November and then there was a narrow miss between Chinese first aircraft carrier Lioning and an American vessel again in this very disputed waters in early December last year. The Quality of a Good Politician in a Democratic Society Adewale Akande - 1/11/2014 My little Oxford dictionary defines politician as "person engaged or interested in politics" and politics as "science and art of government; political affairs or life or principles etc."
Thomas More Law Center - Home Page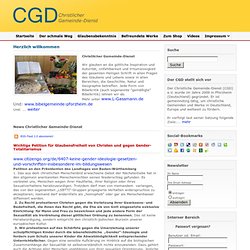 Christlicher Gemeinde-Dienst Startseite
Christlicher Gemeinde-Dienst Wir glauben an die göttliche Inspiration und Autorität, Unfehlbarkeit und lrrtumslosigkeit der gesamten Heiligen Schrift in allen Fragen des Glaubens und Lebens sowie in allen Bereichen, die Geschichte, Natur und Geographie betreffen. Jede Form von Bibelkritik (auch sogenannte "gemäßigte" Bibelkritik) lehnen wir ab. Mehr unter www.L-Gassmann.de Und: www.bibelgemeinde-pforzheim.deUnd: ... weiter RSS-Feed 2.0 abonnieren! Wichtige Petition für Glaubensfreiheit von Christen und gegen Gender-Totalitarismus
5 Pt. Salt
Heute in Israel
Israels Gesandter zu Verhandlungen in Kairo ist zurückgekehrt, die Verhandlungen über eine Waffenruhe sind an der Weigerung der Hamas gescheitert, Raketenangriffe bedingungslos zu beenden. Das mehrstündige Gespräch wurde am internationalen Flughafen Kairo mit ägyptischen Vermittlern geführt, anschliessend ist der Gesandte - dessen Name erst jetzt veröffentlicht wurde, Udi Segal - mit leeren Händen zurückgekehrt. Während die Hamas die Raketenangriffe auf israelische Städte fortsetzt, hat Israel einen Korridor für die humanitäre Hilfe nach Gaza geöffnet. Unter diesen Umständen scheint eine Antiterroroperation am Boden nicht mehr abwendbar.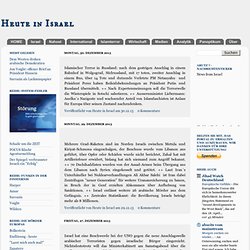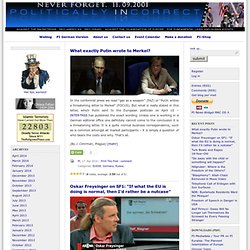 Politically Incorrect – English Version
Islam is the most evil, violent, hateful Far Right Ideology in history. Angela Merkel who while running for re-election as German Chancellor (she won) became the first Chancellor to visit the Dachau concentration camp. During her visit she warned of the dangers of far-right extremism, pointing to the lessons of German history as an example for all of Europe. [mehr]
David Horowitz Freedom Center
What it Means to be a Conservative Posted by Jeffrey · January 14, 2014 11:04 AM From "The Black Book of the American Left" (2013), by David Horowitz:To be a conservative is first to understand that there is no solution to the dilemmas of the human condition. Second, it is to understand that to escape these dilemmas, human beings will inevitably embark on desperate quests for redemptions in this life. These redemptions, in turn, will require holy wars to purge the world of demons—of those who do not share their faith, and who stand in their way. In this regard, totalitarian Islam is really no different in its heart from totalitarian socialism or progressivism, even though the latter are secular and the former is pursued in the name of a vengeful and malignant God.
Welcome, dear friends! Long ago, one of God's faithful servants saw the crossroad ahead and showed us the only safe pathway through an immoral world. Joshua encouraged God's people to follow truth, avoid compromise, and shun their neighbors' earth-centered spirituality.
Crossroad