Fonts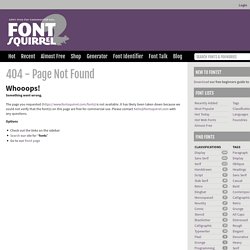 This license can also be found at this permalink: http://www.fontsquirrel.com/license/GoodDog ———————————————————————————————————— Fonthead Design End User License Agreement———————————————————————————————————— By downloading and/or installing Fonthead Design fonts ("software") you agree to the following user license terms: 1) Grant of License: The purchase of this software grants to you ("user") as licensee, the non-exclusive right to use and display the software at a single home or business location on a maximum of 5 CPUs. You also may give a copy of this software to any service bureau which you hire to output your film, paper or color proofs, provided that they do not use the font software for any purpose other than outputing your work. They may keep the font software on file for use with future jobs on your behalf.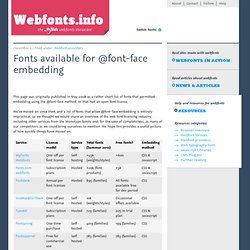 This page was originally published in May 2008 as a rather short list of fonts that permitted embedding using the @font-face method, or that had an open font license. We've moved on since then, and a list of fonts that allow @font-face embedding is entirely impractical, so we thought we would share an overview of the web font licensing industry, including other services from the Monotype family and, for the sake of completeness, as many of our competitors as we could bring ourselves to mention. We hope this provides a useful picture of how quickly things have moved on.
Fonts available for @font-face embedding - Webfonts.info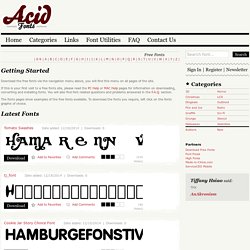 Download the free fonts via the navigation menu above, you will find this menu on all pages of the site. If this is your first visit to a free fonts site, please read the PC Help or MAC Help pages for information on downloading, converting and installing fonts. You will also find font related questions and problems answered in the F.A.Q. section. The fonts pages show examples of the free fonts available. To download the fonts you require, left click on the fonts graphic of choice.
Well crafted (free) fonts by Jos Buivenga Welcome to Jos Buivenga's exljbris Font Foundry. Here you can find my [free] fonts. Delicious, Fontin, Fontin Sans, Tallys, Fertigo Pro, Diavlo, Anivers, Museo, Museo Sans, Museo Sans Rounded, Museo Slab, Calluna, Calluna Sans & Geotica. What's in this difficult to read and pronounce name?