Music
LyricWiki:Lists/Rolling Stone: The 500 Greatest Songs of All Time
Led Zeppelin - Dazed and confused
Bob Dylan looks bored. It's May 1965 and he's slumped in an armchair at the Savoy hotel in London. The camera filming the documentary Don't Look Back, about Dylan's tour, turns away – Dylan's weariness feels like an accusation – and starts to pan around the room, capturing the ragged entourage of folkies and groupies following the singer on the final week of his European tour.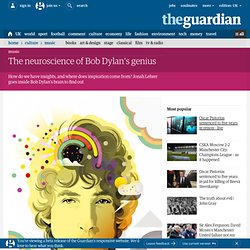 The neuroscience of Bob Dylan's genius | Music
Eight Lost Albums You Weren't Supposed To Hear | CHARTattack
93 indie & special songs for you :) | SaveThePlanet | 660 likes | 4
Some of these websites have a community built around them, which gives fans the opportunity to interact directly with these new talents. Here is a list of 10 free sites to discover new music. TuneGlue TuneGlue is straightforward and easy to use. Put in the name of a musical artist you like in the search bar and before you know it, you'll have a whole web of musical artists that are in one way or another, similar to the band you started with.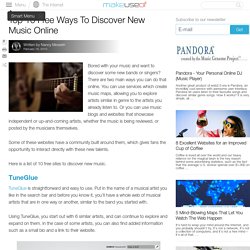 - StumbleUpon
Pianist Bojan Z
John Frusciante - Before The Beginning [01]
Is it reasonable to be a Beatles fanatic in this modern day and age? Why yes it is! And here's some more stuff that you might've missed at some point over the last twenty years. We were absolutely thrilled with the '09 releases in,,,well,,,'09!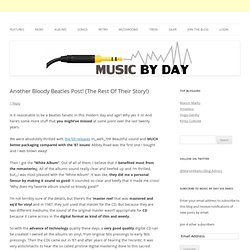 Another Bloody Beatles Post! (The Rest Of Their Story!) | Features
Paul McCartney inducts John Lennon into the Rock and Roll Hall of Fame | The Rock and Roll Hall of Fame and Museum
Rachmaninoff Piano Concerto No. 2 (Pogorelich) - 1st Movement