Side Dishes
Cheesy Broccoli Potato Mash Recipe
Oven Fried Zucchini Sticks Recipe
2 pounds small potatoes, preferably heirloom 1 cup celery, chopped 2 ounces smoked ham, sliced into strips 1/4 cup parsley, chopped fresh 2 tablespoons chives, chopped fresh, or scallions 2 tablespoons mint, chopped fresh, or dill 3/4 cup nonfat buttermilk 1 tablespoon lemon juice 1 tablespoon peanut or canola oil 1/2 teaspoon salt 2 large eggs, hard-boilled, peeled, and coarsely chopped freshly ground pepper, to taste © Meredith Corporation. All rights reserved.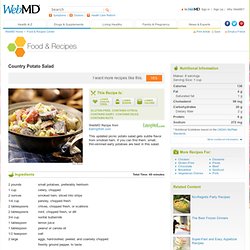 Country Potato Salad Recipe
Spinach and Mushroom Bake Recipe: Side Dish Recipes on WebMD
1 cup chopped onion 2 cups sliced mushrooms (about 8 ounces) 2 cups grated or diced carrots 1 cup diced zucchini 2 10-ounce boxes spinach, frozen chopped, thawed and gently squeezed to eliminate excess water 1/2 cup Matzo Meal, use unsalted if someone is on a low-sodium diet 3 large eggs, lightly beaten 3/4 cup egg substitute 1/4 teaspoon salt add more to taste, optional 1/4 teaspoon black pepper 2 teaspoons low-sodium chicken broth powder You can easily double this recipe to serve more than nine people. Just use a 9x13-inch baking pan. © 2012 WebMD, LLC. All rights reserved.
Entrée: Tuscan White Beans and Broccoli Rabe
Roasted Sicilian Potatoes
Corn and Basil Cakes
Entrée: Mexi Squash
Vegetables and Side Dishes: Spring Millet with Carrots, Mushrooms, and Mint
Vegetables and Side Dishes: Calabasitas with Summer Corn, Zucchini, Green Chilies and Lime
Entrée: Asparagus Risotto With Leeks
Pomodori Al Forno
Vegetables and Side Dishes: Roasted Veggie Smothered Baked Potato
Roasted Sicilian Potatoes
Roasted Broccoli with Garlic and Red Pepper
Crushed Red Potatoes with Buttermilk
Vegetables and Side Dishes: Creamed Collard Greens
Vegetables and Side Dishes: Winter Squash Souffle with Roasted Garlic
Yukon Gold and Sweet Potato Mash
Entree: Roasted Acorn Squash Risotto
Champagne Vinegar and Red Potato Salad
Vegetables and Side Dishes: Butternut Squash with Cinnamon
Entrée: Santa Fe Brown Rice Bake
Vegetables and Side Dishes: Zucchini and Fingerling Potato Hashbrowns
Vegetable Couscous Paella
Vegetarian Recipe: Rice and Corn Cakes with Spicy Black Beans
Vegetables and Side Dishes: Brown Rice Pilaf
Goat Cheese Grits with Fresh Corn
Vegetables and Side Dishes: Spring Millet with Carrots, Mushrooms, and Mint
Vegetables and Side Dishes: Baked Garlic With Thyme
Side Dish Recipe: Garlic Cheese Grits
Entrée: Tuscan White Beans and Broccoli Rabe
Vegetable Recipe: Corn with Bacon and Mushrooms
Red Chili Corn Salad with Limas and Cherry Tomatoes
Blue Cheese Green Beans
Baked Rice with Chilies and Pinto Beans
Cauliflower Gratin
Brussels Sprout Hash with Caramelized Shallots
Ginger Split Pea and Vegetable Curry
Skillet Gnocchi with Chard and White Beans