Webcomics
The Best Webcomics of 2005
Welcome to the year 2014. The last couple of weeks we've been a bit signal dark here at PvP and Table Titans. Part of that was due to the holidays, but we've also been very busy here behind the scenes preparing for a lot of cool things that are about to go down in Q1 2014. Thanks to Table Titans and Mappy we have a lot of new readers who just really have no idea where to dive into PvP. For that reason our site is getting a much needed facelift which we'll be debuting soon. And we're going to launch with a new story-arc that will help introduce new readers to our characters for the first time.
PvPonline
Google+
Jerkcity
www.mnftiu.cc
537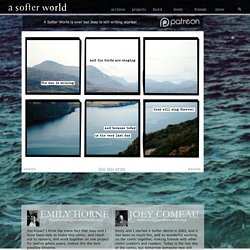 emily A great documentary called Stripped just came out last week, about the transition between newspaper comic strips and webcomics. There are some great interviews in there, inclusing Bill Watterson (WHAT!). Find out more about it here, including how to watch it yourself! joey
copper
Indexed
LEARN SOMETHING EVERY DAY
archive
Married To The Sea: "The Champagne of Comics"
The Abominable Charles Christopher - A Webcomic by Karl Kerschl
Happy 2014, everyone!I'm starting off the year with another Colouring Contest! Just like last time, you can download the page, colour it, and post it on the Abominable Facebook Page. I'll pick the winner randomly from the entries and then replace the strip in the archives with the winning version, to be forever a part of the Charles Christopher timeline.The winner will also receive the Book Two Hardcover, personalized with a sketch of whatever animal you'd like.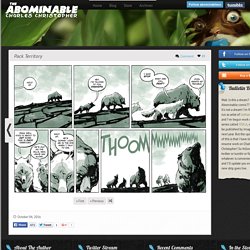 Comics
Saturday Morning Breakfast Cereal
Daisy Owl
Sexy Losers
The Parking Lot is Full Web Page
Nothing Nice to Say - the world's FIRST online punk comic
Another Damn Day! :: Keep the Tip
Girls with Slingshots: Two girls, a bar, and a talking cactus, six times a week!
Achewood
xkcd
Toothpaste for Dinner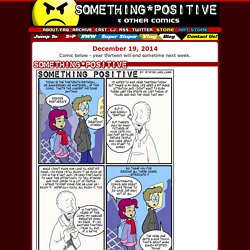 Conventions and other Horror Stories June 28, 2013 Holy crap, the year's half over. I better get back to making blos, huh?
Something Positive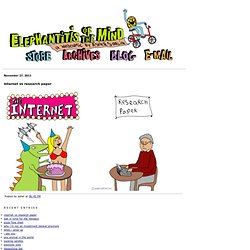 internet vs research paper Posted by asher at 06:45 PM Asher makes his comics for free, but a little financial support is greatly appreciated. Donations are totally safe and secure through PayPal. Thanks!
Elephantitis of the Mind
Wulffmorgenthaler.com | Home | Entertainment - Since 2002. A Commentary ...
Unshelved
Today is my birthday and, as is our tradition, we switched roles: I wrote the strip and Gene drew it. He seems to draw the strip differently every year. Can you guess how he did it this year? Tweet your guess to @unshelfeed with the hashtag #ambaumdraws and the first person to guess correctly wins a custom Gene Ambaum drawing made with the same technique. It's a very special birthday present from him to you. Wait a second, how did I get left out of that?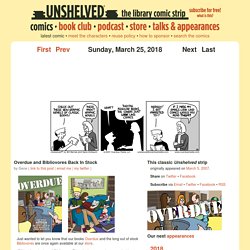 Superosity
THE HAPS I SAY IT'S MY BIRTHDAY! September 15, 2013 36 years and counting of the guy who still brings you this daily full color comic strip against all odds! I would like to update The Haps more often, but as an executive of a publicly-traded company, everything I do is totally super-secret lest our competitors steal our secret formula. All I can do is report my birthdays and anniversaries. Sorry! But hey, why not wish me a happy birthday on my Facebook page?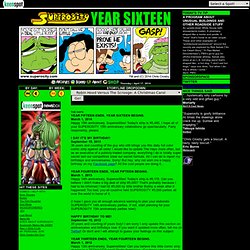 The Webcomic To End all Webcomics