Wallpaper
The Fox Is Black » The Desktop Wallpaper Project. Spring has totally sprung here in LA and we're reaching temperatures between 80º and 90º, aka my heaven.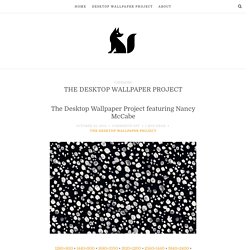 I figured that it was totally fitting then that we feature this incredibly beautiful wallpaper by Jensine Eckwall, which feels to me like spring incarnate. Jensine is a Brooklyn based artist/illustrator who loves to create pieces that are "delicate, nervous, and richly textured illustrations about women, relationships, psychology, and other fun(?) Stuff." Wallpaper on deviantART. Social Wallpapering.
Wallpapers - Smashing Magazine. Free desktop wallpapers, widescreen, dual monitors, iPhone wallpapers, iPad wallpapers, backgrounds for mobile phones, wallpaper clocks, e-cards. The Paper Wall. 20+ Excellent Resources for Desktop Wallpapers. If you have to stare at something for 8 or more hours a day, why not make it something interesting?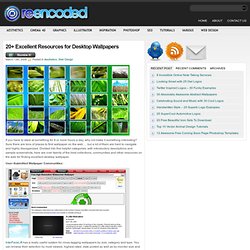 Sure there are tons of places to find wallpaper on the web … but a lot of them are hard to navigate and highly disorganized. Divided into five helpful categories, with introductory descriptions and sample screenshots, here are over twenty of the best collections, communities and other resources on the web for finding excellent desktop wallpaper. User-Submitted Wallpaper Communities: InterFaceLift has a really useful system for cross-tagging wallpapers by size, category and type.
You can browse their selection by most viewed, highest rated, date posted as well as by monitor size and aspect ratio as well as double and even triple-monitor.
---