Sports
Straight Cash Homey Dot Net
Quickish
Ben Maller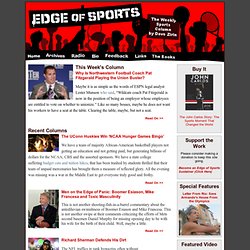 Edge of Sports
This Week's Column More Shame for 60 Minutes: First Benghazi, Then the NSA, Now Alex Rodriguez It is difficult to think of a brand that has bled out more credibility over the last six months than 60 Minutes.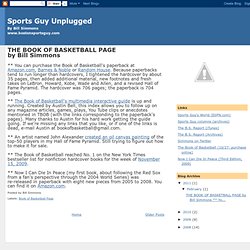 Sports Guy Unplugged
THE BOOK OF BASKETBALL PAGEby Bill Simmons ** You can purchase the Book of Basketball's paperback at Amazon.com, Barnes & Noble or Random House. Because paperbacks tend to run longer than hardcovers, I tightened the hardcover by about 35 pages, then added additional material, new footnotes and fresh takes on LeBron, Howard, Kobe, Wade and Allen, and a revised Hall of Fame Pyramid. The hardcover was 706 pages; the paperback is 704 pages.
Only A Game
The Top 100 Sports Books of All Time In the early 1900s editor Maxwell Perkins told anyone who would listen that Chicago sports columnist Ring Lardner was the most talented writer he knew, high praise given that Perkins' stable included Hemingway, Fitzgerald and Thomas Wolfe. It shouldn't have come as a shock, though. Many of the country's best writers have long been fascinated with sports, and that passion shows up in their prose. After all, when done right, sportswriting transcends bats and balls to display all the traits of great literature: incision, wit, force and vision, suffused with style and substance.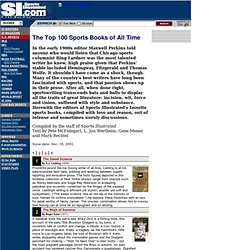 SI.com - Sports Illustrated -- The Magazine - SI's Top 100 Sports Books of All Time - Sunday January 26, 2003 04:45 PM