Popculture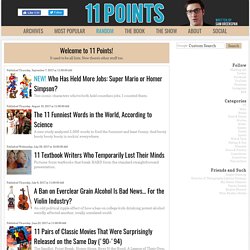 11 Points - A Blog of Lists by Sam Greenspan. Funny lists, movie lists, sports lists, top lists. So, basically, lists.
Follow 11 Points on TwitterThere's some funny stuff there. I promise. Published Monday, January 13, 2014 at 11:00:00 AM NEW!
Where are they now?
*Buy a new .COM, get one new .INFO for FREE for 1st year only. Not valid on renewals or transfers. Plus ICANN fee of 18¢ per domain per year. † Good for one 1-year registration of any available .COM, .US, .BIZ, .INFO, .NET or .ORG **New .COs, first year only.
In writing terms, I had a great 2013. I added some cool new bylines to my resumé, and for the first time I even got paid for my work! As such, constantly looming deadlines made me shift focus away from this blog even to update it with links to my work, much less to actually write stuff here. I imagine that will continue in 2014 (at least I hope it does, as it means I'm still pulling down freelance work), but I am still going to try and write a few exclusives here, primarily with my entries in the cross-blog Blind Spots series. I failed to write about five of my chosen picks for 2013, even though I actually watched one of them, French Cancan (a masterpiece I will write about shortly, I hope). So, as to not forget them, I will list them here alongside this year's picks, and with any luck I will get to all of them before the year is done.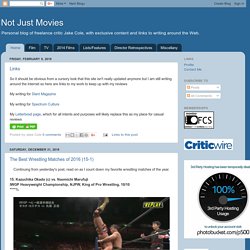 Not Just Movies
Premiere
And now we continue the Logopolis Fall TV 2010 review, I've completed the fall schedule. For your own ease and viewing pleasure, you can download a schedule to make your own plans here -- and you don't even have to buy a TV Guide. And here's my thoughts on Tuesday nights, again complete with unnecessary footnotes. You're welcome. Tuesday Spotlight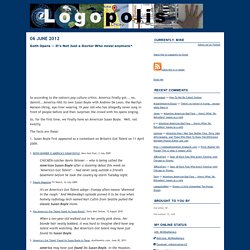 Logopolis
FlashNews® - Wireless Flash® Provides Daily Pop Culture, Offbeat News And Show Prep To Media Outlets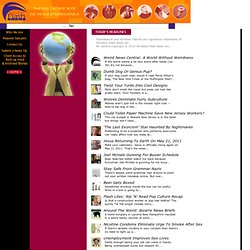 FlashNews® and Wireless Flash® are registered trademarks of Wireless Flash News Inc. All content copyright © 2014 Wireless Flash News Inc. Weird News Central: A World Without Weirdness If the world seems a lot less weird after today (Jul. 30) it's not because...
Ultimate Top 10 Lists - Listverse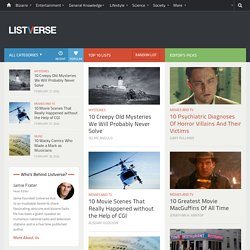 Facts 10 Cool Car Facts Crime
Art - Lapham's Quarterly
Hater | Hater
The Daily What
Welcome to The Ampersand's Lost Panel. Every week during the show's sixth and final season, a panel of National Post editors, reporters and special guests will break-down the most recent episode: what happened, and more importantly, what it all means. Joining us this week are Mark Medley, arts reporter; Brad Frenette, features online editor; Matthew Coutts, sports reporter; and special guest Nikki Stafford, author of the Finding Lost series of companion guides. Mark: My first question is this: did the OMG final 45 seconds of Tuesday night's episode, Across the Sea, make up for what was otherwise a pretty lackluster episode? Or am I being too hard on Lost's second-last Tuesday night episode? As regular readers of our Lost panel know, I've been pretty vocal about how rushed this final season has been.
The Ampersand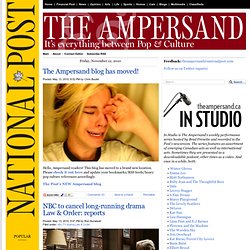 X-Entertainment's 2009 Christmas Season!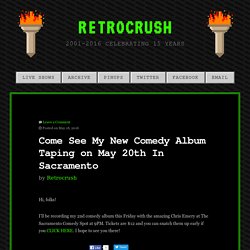 I found this 1943 ad for Cannon Towels and think it's fantastic! I wonder if there were more in the series of "True Towel Tales". It's a mixture of patriotism, sex appeal, and all American wholesomeness that really works well. It's naughty enough to thrill the readers back home, but still has enough innocence to get away with it.
retroCRUSH
A List Of Things Thrown Five Minutes Ago
Scallywag & Vagabond
Popsquire: where pop culture and law collide.
Depuis plus de 10 ans, le cours de l'or n'a fait qu'augmenter. Cette hausse s'est traduite par un affaiblissement du cours de l'or en 2013. Bien qu'il soit bien plus haut qu'il y a 10 ans, les investisseurs ont tendance à réduire leur quantité de ce précieux métal. Selon un sondage auprès d'une vingtaine de [...] Lire la suite...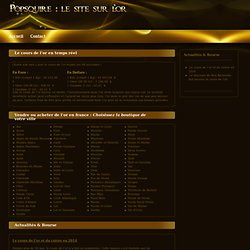 Zenith of Hotness
Bossip.com Gossip for the Hardcore: Henny Without Any Coke
// 'CONCRETELOOP.COM' - QUALITY NOT QUANTITY
Remember when Southern rapper Juicy J made that big announcement about a twerking contest that revolved around a $50,000 prize? Well the former Three 6 Mafia member has finally found a winner! Meet Zaire Holmes. She's a 19 year-old single mother & full-time Biology student at the State College of Florida.
50 Incredible Film Posters From Poland
When I'm not geeking out over design you can probably find me geeking out over film. I spent a good 7 years of my life working behind the counters of various video stores across Western Canada and consider myself an avid film nerd. So it's not surprisingly that my jaw nearly hit the floor when a coworker introduced me to the wonderful world of Polish film posters a couple of years ago. These conceptual masterpieces put the original American posters to shame every time; they are truly beautiful works of art. Trimming this list down to a mere 50 posters that I absolutely love was surprisingly difficult.
Whatever Happened to...? Joal Ryan now thinks the big child-star thoughts at her site, Joal Ryan, Hollywood Correspondent!. There will be no further updates here.
Former Child Star Central
Episode VIII - April 27, 2008 I apologize for the belatedness of this recap for the season finale of Celebrity Fit Club: Boot Camp. I missed the episode when it originally aired on VH1 in April and have not yet seen it in a re-run. Luckily, however, VH1 posted video of this episode on its website. The season finale of Celebrity Fit Club: Boot Camp began with 7 of the 8 contestants riding on the bus toward the boot camp site. Not surprisingly, the missing contestant was Dustin Diamond.
Washed Up Celebrities
Klosterman articles
[SpoilerFix.com] SpoilerFix.com messages to the visitors!
The GLEE's Powers That Be are preparing for the production of next season. This mean, deciding who stays and who goes as well as starting to write the first scripts. Here is a rundown of the GLEE spoilers released this past week.
warren g, you useless, useless bastard
The Superficial - Because You're Ugly
WWWF Grudge Match - Where useless knowledge breeds champions
List of Bests
Egotastic!