Popculture
11 Points - A Blog of Lists by Sam Greenspan. Funny lists, movie lists, sports lists, top lists. So, basically, lists. Where are they now? Not Just Movies. Premiere. Logopolis. FlashNews® - Wireless Flash® Provides Daily Pop Culture, Offbeat News And Show Prep To Media Outlets. Ultimate Top 10 Lists - Listverse. Art - Lapham's Quarterly. Hater | Hater. The Daily What. The Ampersand. Welcome to The Ampersand's Lost Panel.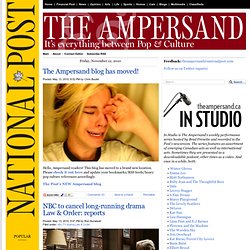 Every week during the show's sixth and final season, a panel of National Post editors, reporters and special guests will break-down the most recent episode: what happened, and more importantly, what it all means. Joining us this week are Mark Medley, arts reporter; Brad Frenette, features online editor; Matthew Coutts, sports reporter; and special guest Nikki Stafford, author of the Finding Lost series of companion guides. Mark: My first question is this: did the OMG final 45 seconds of Tuesday night's episode, Across the Sea, make up for what was otherwise a pretty lackluster episode?
Or am I being too hard on Lost's second-last Tuesday night episode? As regular readers of our Lost panel know, I've been pretty vocal about how rushed this final season has been. X-Entertainment's 2009 Christmas Season! RetroCRUSH. A List Of Things Thrown Five Minutes Ago. Scallywag & Vagabond. Popsquire: where pop culture and law collide. Zenith of Hotness. Bossip.com Gossip for the Hardcore: Henny Without Any Coke. // 'CONCRETELOOP.COM' - QUALITY NOT QUANTITY. 50 Incredible Film Posters From Poland. When I'm not geeking out over design you can probably find me geeking out over film.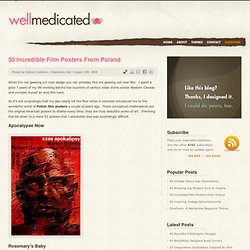 I spent a good 7 years of my life working behind the counters of various video stores across Western Canada and consider myself an avid film nerd. So it's not surprisingly that my jaw nearly hit the floor when a coworker introduced me to the wonderful world of Polish film posters a couple of years ago. These conceptual masterpieces put the original American posters to shame every time; they are truly beautiful works of art. Trimming this list down to a mere 50 posters that I absolutely love was surprisingly difficult. Former Child Star Central. • Former Child Stars: Why Can't You Be More Like Ron Howard and Jodie Foster?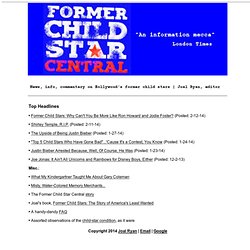 (Posted: 2-12-14) • Shirley Temple, R.I.P. Washed Up Celebrities. Klosterman articles. [SpoilerFix.com] SpoilerFix.com messages to the visitors! Warren g, you useless, useless bastard. In my informal capacity as future analyst and hip-hop theorist, I will take the time to consider seminal efforts in the field of rap music.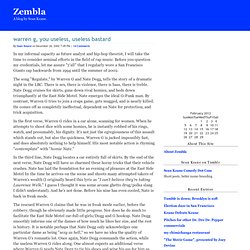 Before you question my credentials, let me assure "y'all" that I regularly wore a San Francisco Giants cap backwards from 1994 until the summer of 2002. The song "Regulate," by Warren G and Nate Dogg, tells the story of a dramatic night in the LBC. There is sex, there is violence, there is bass, there is treble. Nate Dogg cruises for skirts, guns down rival homies, and beds down triumphantly at the East Side Motel.
The Superficial - Because You're Ugly. WWWF Grudge Match - Where useless knowledge breeds champions. WWWF News View highlights of Grudge Match Live on YouTube.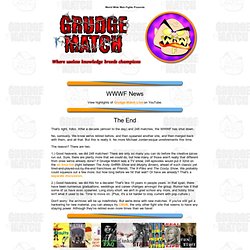 The End That's right, folks. List of Bests. Egotastic!
---