Life
MetaChat - Tell me 10 things about you that people should know.
It Made My Day - Little Moments of WIN
Sometimes I get bored by my life. I am not in the habit of doing a lot of activities outside the home (partly because of a limited budget). Also, it's easy to get stuck in a routine and get too busy with life's responsibilities. I am always thinking about future goals and often forget to enjoy the moment. This seems to be in large part a symptom of modern life.
What is "living life to the fullest"?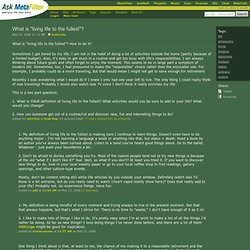 How did you change your life? What small-ish changes have you made that greatly impacted your life? I'm 19 years old, a freshman in college, and I feel entirely blasé about everything. Adjusting to college life was fantastic -- everything was new and things were changing.
How did you change your life?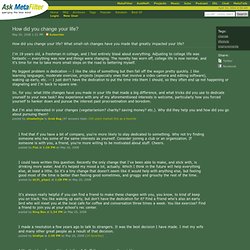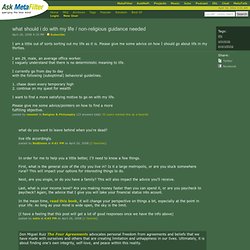 I am a little out of sorts sorting out my life as it is. Please give me some advice on how I should go about life in my thirties. I am 29, male, an average office worker.
what should i do with my life / non-religious guidance needed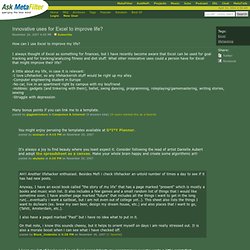 I always thought of Excel as something for finances, but I have recently become aware that Excel can be used for goal tracking and for tracking/analyzing fitness and diet stuff. What other innovative uses could a person have for Excel that might improve their life? A little about my life, in case it is relevant: -I love Lifehacker, so any lifehackerish stuff would be right up my alley -Computer engineering student in Europe -No car, live in an apartment right by campus with my boyfriend -Hobbies: gadgets (and tinkering with them), ballet, swing dancing, programming, roleplaying/gamemastering, writing stories, sewing -Struggle with depression Many bonus points if you can link me to a template.
Innovative uses for Excel to improve life?
End of youth?
52 Pieces
The List |Rules| 1.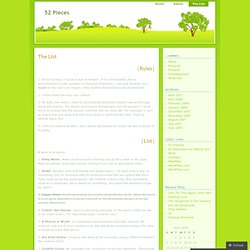 . . . an Alternative to Slitting Your Wrist
8 Strategies to get the most from painful or awkward life transitions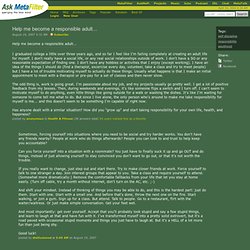 Help me become a responsible adult...
Help me become a responsible adult... I graduated college a little over three years ago, and so far I feel like I'm failing completely at creating an adult life for myself. I don't really have a social life, or any real social relationships outside of work. I don't have a SO or any reasonable expectation of finding one.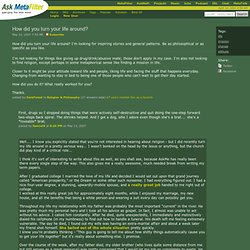 How did you turn your life around?
How did you turn your life around? I'm looking for inspiring stories and general patterns. Be as philosophical or as specific as you like.
What "Rules for Life" should I pass on to my 15 year old brother?
Ask The Readers: What do you wish you'd been told before you left school?
DigsMagazine.com
12 Ways to be More Free in 2007
Dandelife.com - A Social Biography Network.
QLC Message Boards