Journalism
Special reports. Investigative Reporting, 2007 Your Courts, Their Secrets Ken Armstrong, Justin Mayo and Steve Miletich exposed how the improper sealing of hundreds of lawsuits hid information vital to public safety.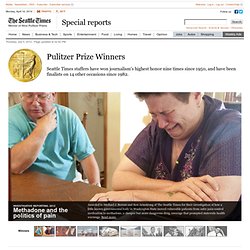 Their series resulted in the unsealing of court files and remedies in the judicial system. License to Harm. The New NEW Journalism. Final Salute : News : The Rocky Mountain News. Hear the voice of a Marine casualty assistance calls officer - along with behind-the-scenes photos - as he undertakes the most difficult mission of his life.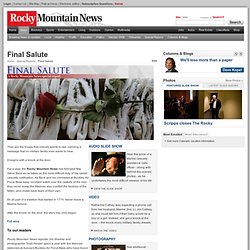 Katherine Cathey was expecting a phone call from her husband, Marine 2nd. Lt. Jim Cathey, so she could tell him if their baby would be a boy or a girl. Instead, she got a knock at the door -- the knock every military family dreads. See additional photos of Maj. Daniel Golden's Pulitzer Prize-WinningArticles. 2007 Pulitzer Prizes -- Charlie Savage -- The Boston Globe. (By Charlie Savage, Globe Staff, 1/4/06) WASHINGTON -- When President Bush last week signed the bill outlawing the torture of detainees, he quietly reserved the right to bypass the law under his powers as commander in chief.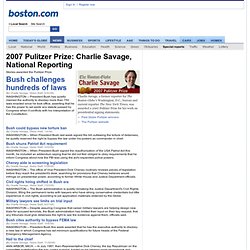 (By Charlie Savage, Globe Staff, 3/24/06) WASHINGTON -- When President Bush signed the reauthorization of the USA Patriot Act this month, he included an addendum saying that he did not feel obliged to obey requirements that he inform Congress about how the FBI was using the act's expanded police powers. Extra! Extra! "19-year-old Hailu Brook was shot and killed by Fairfax County police after he allegedly robbed a bank and crossed the county line.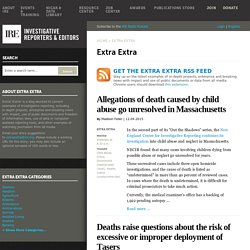 Officers fired 25 shots into his body, and the Arlington County Police Department conducted an official investigation into the actions of the Fairfax officers. " "The case is closed, but the Arlington police chief is refusing to release the document to the public or even the father of the slain teenager."Transparency wouldn't kill anybody," the father told investigative reporter Michael Lee Pope, who reported the story as part of a partnership between WAMU 88.5 News and ... Read more ... Center for Media and Democracy | Publishers of PR Watch. The American Independent News Network. Rogue Columnist. Everybody who was anybody in Phoenix has a favorite story about Charles H Keating Jr., who died this week at 90.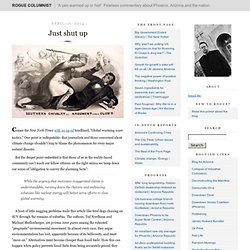 Here's mine. By the time I came back in 2000, Keating, the disgraced imprisoned former S&L kingpin, was once again a fixture around town. I would run into him at Durant's, where he was cordial but declined my invitation to sit down sometime and tell his story. One day the restaurant was packed and Keating couldn't get seated. The Denver Post. True/Slant. Philadelphia Independent Media Center | Passionate and Accurate Tellings of Truth.
10 Projects that Help Citizens Become Government Watchdogs. With the 2010 U.S. elections coming into view, many people are looking for more information about the people running for office — and the individuals and organizations funding these candidates.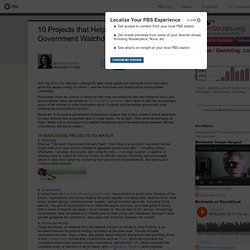 Fortunately, there are dozens of initiatives that mine and share the data that influence policy and policy-makers. Many are funded by The Sunlight Foundation, which aims to use "the revolutionary power of the Internet to make information about Congress and the federal government more meaningfully accessible to citizens." Below are 10 innovative government transparency projects that employ powerful online databases to make political data accessible (and, in many cases, fun as well). Wagist. The Independent | Britain | British News and Information. Wandsworth, SW18 A three-bedroom house with private garden, close to Earlsfield station.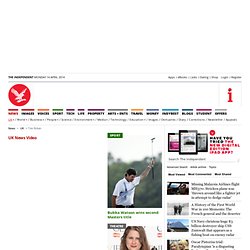 Seattle PostGlobe | Home. Al Jazeera English - Focus. News - Saturday Extra - Montreal Gazette. News topics, in depth coverage, pictures, video. AltWeeklies.com. Crosscut - News of Seattle and the Pacific Northwest. St. Louis Beacon. Wikileaks. IRE.  Index. Consumer Reports WebWatch: The leader in investigative reporting on credibility and trust online. Chris Jones. Help Me Investigate.com blog :: Behind the scenes. It's Blog Action Day .Here are 88 ways to do something about poverty now.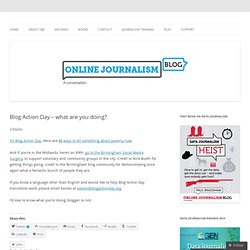 And if you're in the Midlands, here's an 89th: go to the Birmingham Social Media Surgery, to support voluntary and community groups in the city. Credit to Nick Booth for getting things going; credit to the Birmingham blog community for demonstrating once again what a fantastic bunch of people they are. Depth Reporting. Secrecy News. The Director of National Intelligence has forbidden most intelligence community employees from discussing "intelligence-related information" with a reporter unless they have specific authorization to do so, according to an Intelligence Community Directive that was issued last month.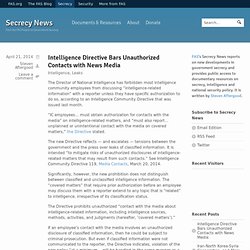 "IC employees… must obtain authorization for contacts with the media" on intelligence-related matters, and "must also report… unplanned or unintentional contact with the media on covered matters," the Directive stated. The new Directive reflects — and escalates — tensions between the government and the press over leaks of classified information. It is intended "to mitigate risks of unauthorized disclosures of intelligence-related matters that may result from such contacts." See Intelligence Community Directive 119, Media Contacts, March 20, 2014. Greg Palast.
100 Best Blogs for Journalism Students - Learn-gasm. Today's journalism students are entering an industry that's facing a crossroads.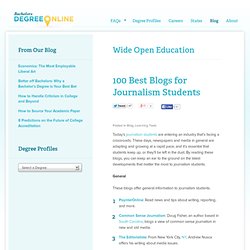 These days, newspapers and media in general are adapting and growing at a rapid pace, and it's essential that students keep up, or they'll be left in the dust. By reading these blogs, you can keep an ear to the ground on the latest developments that matter the most to journalism students. General These blogs offer general information to journalism students. Investigate This! Blog & Resources Investigative Journalism|News, Tips, Media Resources, Research. Best Sports Writing - The Best Books, Features And Profiles From Around The World. Johann Hari - Home. E Ticket - E-tickets - - ESPN.
---