Finance
Economics. Investing. Credit. Quot;Financial Thrillers" Forums - Finance. Shopping Earn Cash Back while you shop - just 3 simple steps. 1.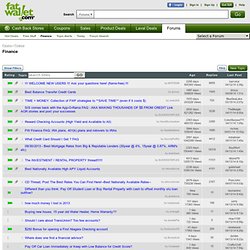 Sign Up so we know who to pay! (It's FREE.) Six Ways to Stay Warm and Reduce the Heating Bill. Wise Bread Picks Last month our heating bill shot up from around $60 to more than $120 and my husband was not pleased.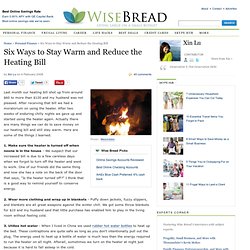 After receiving that bill we had a moratorium on using the heater. After two weeks of enduring chilly nights we gave up and started using the heater again. Big List of Free Budgeting Tools and Software. More than a month ago, I wrote a post about tracking your spending for a month.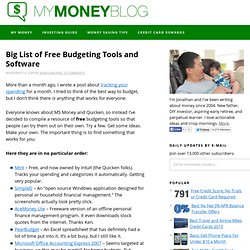 I tried to think of the best way to budget, but I don't think there is anything that works for everyone. Everyone knows about MS Money and Quicken, so instead I've decided to compile a resource of free budgeting tools so that people can try them out on their own. Try a few. 102 Personal Finance Tips Your Professor Never Taught You.
If you're anything like me, you graduated from college and perhaps even took a finance class or accounting class here or there, but you didn't learn anything about managing your personal finances.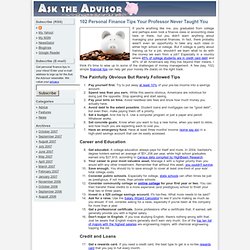 In fact, there probably wasn't even an opportunity to take any such class in either high school or college. But if college is partly about training us for a job, shouldn't we learn what to do with the money we earn from a job? Especially in a country where 45% of college students are in credit card debt and 40% of all Americans say they live beyond their means, I think it's time to wise up to some of the challenges of money management. A few (say, 102) simple financial tips can help get your money life (back) on the right track. The Painfully Obvious But Rarely Followed Tips. Conscious spending: How my friend spends $21,000/year on going out.
A few weeks ago, a couple of friends and I were talking about where we want to travel this year, and one of them said something that surprised me.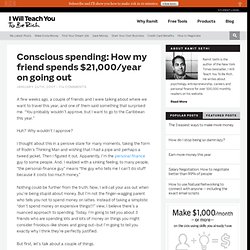 "You probably wouldn't approve, but I want to go to the Caribbean this year." Huh? Basic Tips on Tipping: How Much and To Whom? Every time I get my hair cut, I'm faced with a dilemma — should I tip the barber or not?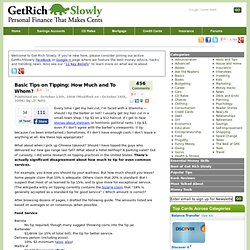 I usually get my hair cut in a small-town shop. I tip $2 on a $12 haircut. If I get to hear stories about Vietnam or histrionic political rants, I tip $3, even if I don't agree with the barber's viewpoints. (I tip because I've been entertained.) Sometimes, if I don't have enough cash, I don't leave a anything at all. Get Rich Slowly.
---