Creativity
Journal writing can be hard. The blank page sits ready, teasing you and your pen. A million and one thoughts swirl around in your head and you can't settle on just one thought or idea. And as soon as the best idea one does float into your mind, you start to worry about whether or not you can get it down and how that will all look on the finished page of your journal. Or perhaps maybe you never get an idea at all, so your page sits blank once more, awaiting the muse. Sometimes it's easier to not write than it is to write at all with all this pressure.
Journalling Prompts: Resources for those days when the blank page bites back
Following World War II, the high quality, technologically advanced products of the United States dominated world markets. With the oil shock of the 1970s, however, many of the economic advantages associated with cheap petroleum were lost and the recovered economies of Europe and Asia emerged as strong competitors in many product areas. The innovative technologies of the US could no longer insulate industries from the customer oriented approaches of European and Asian producers. The 1990s have seen the recovery of many US industries, most notably the automotive industry. This has been due in part to the influence of many Japanese quality methodologies introduced here by the late Dr.
Theory of Inventive Problem Solving (TRIZ)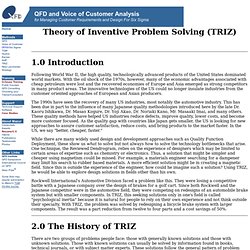 Ideas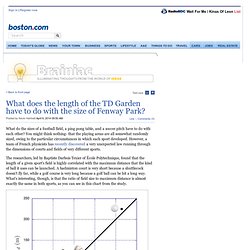 The April 4 issue of the New York Review of Books contains an excerpt (subscription required) from philosopher Ronald Dworkin's forthcoming book, "Religion Without God." Dworkin delivered the book to Harvard University Press before his death, in February, and the argument he makes in it is surely a good one to go out on. I will try to summarize it here, though I'm afraid in an effort to be clear I'll lose much of the heat that makes Dworkin's piece worth reading. Dworkin's main objective is to show that believers and some kinds of atheists are not necessarily as far apart on important questions as the intensity of their antagonism would have it. The argument he makes to support that claim is dense (but satisfying) and rests on the idea that there is no essential relationship between religion and god. Dworkin begins by defining what he takes to be the "religious attitude."
Brainiac - Ideas from academia
January 2006 To do something well you have to like it. That idea is not exactly novel. We've got it down to four words: "Do what you love." But it's not enough just to tell people that.
~ synthesis ~
Creative Think
Reading the Web - Ideas Blog
It Seemed Like A Good Idea on Paper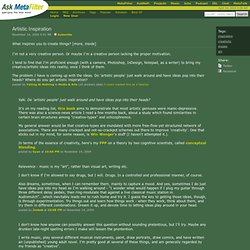 What inspires you to create things?
What inspires you to create things? [more, inside] I'm not a very creative person. Or maybe I'm a creative person lacking the proper motivation. I tend to find that I'm proficient enough (with a camera, Photoshop, InDesign, Notepad, as a writer) to bring my creative/artistic ideas into reality, once I think of them. The problem I have is coming up with the ideas.
The Cache
RSCC Online Writing Lab
Book summary: A Technique for Producing Ideas
52 Projects: Simple Things You Can Do Right Now To Jumpstart Your Writing Efforts
From Mycoted This A to Z of Creativity and Innovation Techniques, provides an introduction to a range of tools and techniques for both idea generation (Creativity) and converting those ideas into reality (Innovation). Like most tools these techniques all have their good and bad points. I like to think of these creativity and innovation techniques as tools in a toolbox in much the same way as my toolbox at home for DIY. It has a saw, spanner, hammer, knife and all sorts of other things in it, they are all very useful, but you have to pick the right tool (creativity / Innovation technique) for each job. This site will try and provide a little guidance along with each tool to let you know whether it's best used for cutting paper or putting in nails.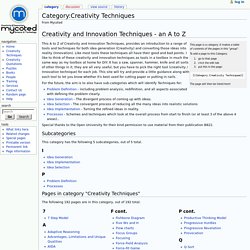 cool news - subscribe
idea a day