Basketball
High School Basketball Top Recruits - StatSheet.com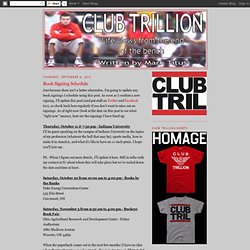 Club Trillion
I'm sure most of you reading this are aware, but my book "Don't Put Me In, Coach" was released on Tuesday. Remember: Don't judge a book by its cover, unless you think the cover is awesome. This, of course, is my way of saying that if you haven't already bought it, you're dead to me and I hope you can sleep at night knowing that because of your selfishness I won't be able to afford the shark jet-ski/submarine thing that I should've had years ago. If you haven't bought it yet, the good news is that you can absolve your sin by going here, picking your favorite bookseller, and telling them that you want to help make my dream come true. If you're on the fence about pulling the trigger and spending the equivalent of a movie ticket and a large popcorn on a book that will thoroughly entertain you during at least 5 poops and you'll have for the rest of your life, I encourage you to go here and read an excerpt from the book to help make your decision.
FAT SHAWN KEMP
The Book of Basketball Interactive Guide
Basketbawful
Lamar Odom appears to have fallen on hard times One of the extras from Dazed and Confused shows Steve Novak the true meaning of "Blurred Lines" A very drunk Kevin McHale struggles to remember the next play "Next year....next year we'll get Wiggins and things will be so much better" Andray Blatche wearing the same number as his made field goals from the night. "Maybe we could have won if I could actually see the damn court!"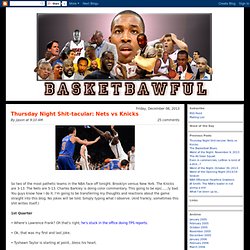 Crashing the Dance
Selection 32 teams make the field automatically as conference champions. The committee picks another 36 teams to fill out the field of 68. Unfortunately, the committee's deliberations are kept highly secret. We don't know what parts of each team's profile the committee values most. Crashing the Dance uses artificial intelligence to learn from previous seasons and predict which teams the committee will select.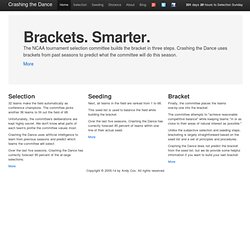 2009 Pomeroy Ratings
Professional Basketball Transactions Archive
NBA Players
NBA Rumors