Baseball
Recondite Baseball
One of baseball's "big" numbers is .300. If you hit .300 or better, you're a good hitter. As the following players can attest, however, hitting .300 isn't always enough to stick in the major leagues. Since 1954, thirteen players have hit .300 in more than 50 but fewer than 500 career plate appearances. Players who appeared in the majors during 2009 were not included. I chose fifty PA as the minimum because it takes at least ten starts to rack up that many times at the plate.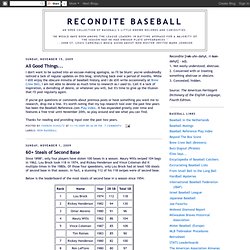 Splitsville: BABIP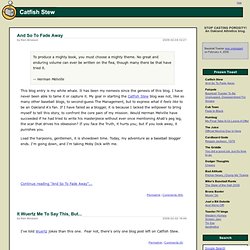 And So To Fade Away by Ken Arneson To produce a mighty book, you must choose a mighty theme.
Baseball Toaster: Catfish Stew
StatCorner: Home to wOBA, tRA, and many other baseball statistics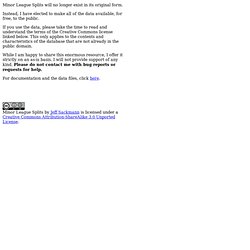 Minor League Splits dot com
Minor League Splits will no longer exist in its original form. Instead, I have elected to make all of the data available, for free, to the public. If you use the data, please take the time to read and understand the terms of the Creative Commons license linked below. This only applies to the contents and characteristics of the database that are not already in the public domain.
Baseball Newsstand— All the News That's Fit to Link Sunday, April 13, 2014 We're Moved! (And Burst.net can bite me!) Update Thursday, April 17th at 11:00 AM: I've been bogged down looking for a fix to a domain redirect issue caused by a new php handler that I'm using on the server. For now using some of the old domain names will produce an error if you try to go to a sub-directory (like www.baseballprimer.com/newsstand/).
BBTF's Sabermetrics Newsbeat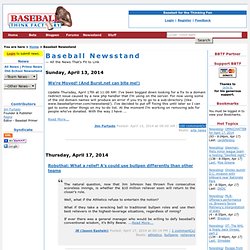 Beyond the Box Score :: A Sabermetrics Blog
Mean In Green: The Oakland Athletics Podcast : Home
Knowing that Luke Hochevar was on the mound for the Royals in their second game of the Astro series, I prepared two leads: Luke Hochevar was awful on Tuesday. Or…
Royals Authority - Deconstructing The Process
Baseball·Basketball·Football·General·Hockey·S-R·Soccer·UncategorizedStathead is Closing Down: Stathead is Closing Down With apologies to our dedicted users, we've decided to stop publishing the Stathead blog.
Stathead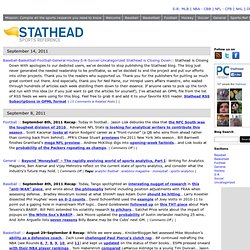 It doesn't make a lot of sense to attempt any meaningful analysis after just two weeks, but here are some random observations I've had while watching the Twins start 6-7 ... • Last year Brian Dozier set the Twins' record for homers by a second baseman with 18, which came as a surprise after he totaled just 16 homers in 365 games as a minor leaguer. There was evidence that Dozier changed his approach at the plate to pull the ball more, and he's already gone deep four times in 13 games this year.
AaronGleeman.com » Aaron Gleeman's Baseball and Minnesota Twins Blog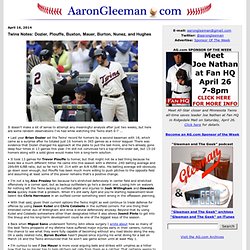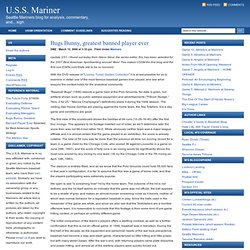 Bugs Bunny, greatest banned player ever
DMZ · March 12, 2006 at 3:33 pm · Filed Under Mariners Update 2/21: I found out today from Glenn Stout, the series editor, this has been selected for the 2007 Best American Sportswriting annual! Woo! This makes USSM the first blog and the first non-ESPN.com/Slate site to be so honored.
The Society For American Baseball Research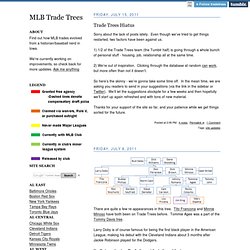 Friday, July 15, 2011 Trade Trees Hiatus Sorry about the lack of posts lately. Even though we've tried to get things restarted, two factors have been against us. 1) 1/2 of the Trade Trees team (the Tumblr half) is going through a whole bunch of personal stuff - housing, job, relationship all at the same time.
MLB Trade Trees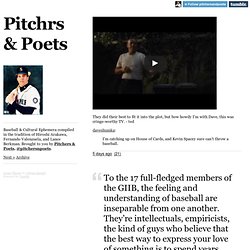 They did their best to fit it into the plot, but bow howdy I'm with Dave, this was cringe-worthy TV. - teddaveshumka:I'm catching up on House of Cards, and Kevin Spacey sure can't throw a baseball. To the 17 full-fledged members of the GIIB, the feeling and understanding of baseball are inseparable from one another. They're intellectuals, empiricists, the kind of guys who believe that the best way to express your love of something is to spend years studying and arguing about it. They talk about sabermetrics in the context of classic economists: "Marx's economic theories are basically sabermetrics," says Aldama. "It's the elimination of subjectivity." "Opening Day, 1986 - Nolan Ryan warms up in the bullpen before the Astros-SF Giants matchup." via Mike Acosta's Twitter account: @AstrosTalk #dadsknow "I played catch with him," [Chris Archer's] father says.
Pitchrs & Poets.
Pitching Comparisons
Rany on the Royals
I know that many of my newer readers are under the impression that I am a pessimist by nature who enjoys skewering the Royals at every opportunity. Those of you who've been around a while know that if I'm guilty of anything, it's of being unrealistically positive about the Royals; there's no way I could have kept writing about the Royals when they lost 100 games back-to-back-to-back years otherwise. But it's true that of late, I'm better known for criticism than praise. But I really do want the Royals to succeed, and I really do want to say nice things about their front office.
The Baseball Analysts
Courtesy of Baseball America First-Round: 1.
Royal Reflections is reliving all 33 of Zack Greinke's 2009 starts in addition to his All-Star game appearance as we head into Spring Training 2010. Game Date: April 24, 2009 Detroit @ Kansas City Royals 6, Tigers 1 / Box Score WP: Greinke (4-0) LP: Porcello (1-2) Zack Greinke is off to a 3-0 start and he still has not allowed an earned run.
Royal Reflections
Wiki Gonzalez