Baseball
Recondite Baseball
Friday, March 29, 2013 Cooperstown Confidential: The 1978 firing of Alvin Dark by Bruce Markusen It's not just players who find their jobs on the line during spring training.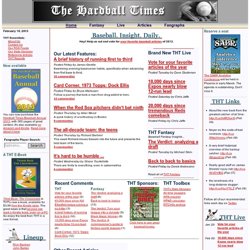 The Hardball Times
Splitsville: BABIP
Baseball Toaster: Catfish Stew
StatCorner: Home to wOBA, tRA, and many other baseball statistics
Minor League Splits dot com
Baseball Newsstand — All the News That's Fit to Link
BBTF's Sabermetrics Newsbeat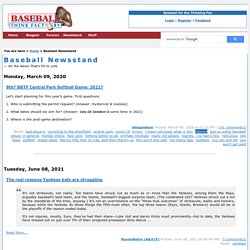 Beyond the Box Score :: A Sabermetrics Blog
Mean In Green: The Oakland Athletics Podcast : Home
Royals Authority - Deconstructing The Process
Baseball · Basketball · Football · General · Hockey · S-R · Soccer · Uncategorized Stathead is Closing Down : Stathead is Closing Down With apologies to our dedicted users, we've decided to stop publishing the Stathead blog.
Stathead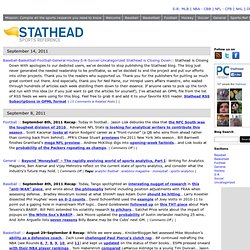 AaronGleeman.com » Aaron Gleeman's Baseball and Minnesota Twins Blog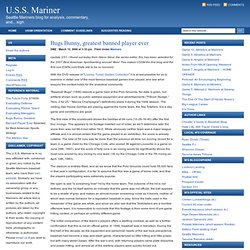 Bugs Bunny, greatest banned player ever
DMZ · March 12, 2006 at 3:33 pm · Filed Under Mariners
The Society For American Baseball Research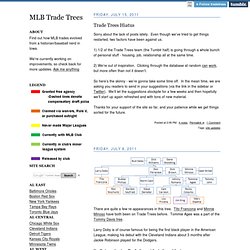 Friday, July 15, 2011
MLB Trade Trees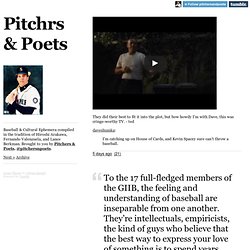 This afternoon Gary Bell and I hired a car and drove up to the Berkeley campus and walked around and listened to speeches—Arab kids arguing about the Arab-Israeli war, Black Panthers talking about Huey Newton and the usual little old ladies in tennis shoes talking about God. Compared with the way everybody was dressed Gary and I must have looked like a couple of narcs.
Pitchrs & Poets.
Baseball Musings home Day by Day Database
Pitching Comparisons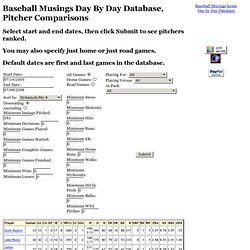 Rany on the Royals
The Baseball Analysts
Royal Reflections
Wiki Gonzalez