Baseball
Recondite Baseball. Splitsville: BABIP. Baseball Toaster: Catfish Stew. StatCorner: Home to wOBA, tRA, and many other baseball statistics. Minor League Splits dot com. BBTF's Sabermetrics Newsbeat. Baseball Newsstand— All the News That's Fit to Link Sunday, April 13, 2014 We're Moved!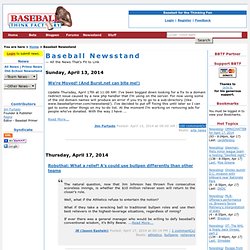 (And Burst.net can bite me!) Update Thursday, April 17th at 11:00 AM: I've been bogged down looking for a fix to a domain redirect issue caused by a new php handler that I'm using on the server. For now using some of the old domain names will produce an error if you try to go to a sub-directory (like www.baseballprimer.com/newsstand/). Beyond the Box Score :: A Sabermetrics Blog. Mean In Green: The Oakland Athletics Podcast : Home. Royals Authority - Deconstructing The Process. Stathead. Baseball·Basketball·Football·General·Hockey·S-R·Soccer·UncategorizedStathead is Closing Down: Stathead is Closing Down With apologies to our dedicted users, we've decided to stop publishing the Stathead blog.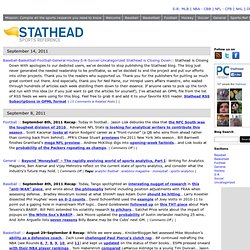 AaronGleeman.com » Aaron Gleeman's Baseball and Minnesota Twins Blog. Bugs Bunny, greatest banned player ever. DMZ · March 12, 2006 at 3:33 pm · Filed Under Mariners Update 2/21: I found out today from Glenn Stout, the series editor, this has been selected for the 2007 Best American Sportswriting annual!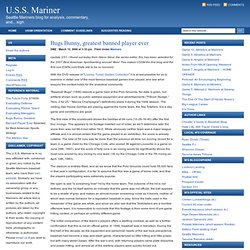 Woo! This makes USSM the first blog and the first non-ESPN.com/Slate site to be so honored. The Society For American Baseball Research. MLB Trade Trees. Friday, July 15, 2011 Trade Trees Hiatus Sorry about the lack of posts lately.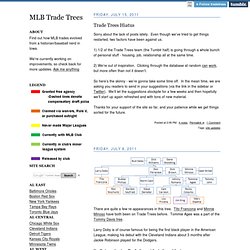 Even though we've tried to get things restarted, two factors have been against us. 1) 1/2 of the Trade Trees team (the Tumblr half) is going through a whole bunch of personal stuff - housing, job, relationship all at the same time. Pitchrs & Poets. They did their best to fit it into the plot, but bow howdy I'm with Dave, this was cringe-worthy TV. - teddaveshumka:I'm catching up on House of Cards, and Kevin Spacey sure can't throw a baseball.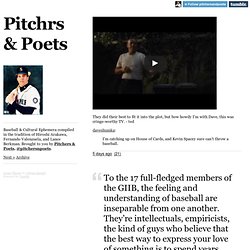 To the 17 full-fledged members of the GIIB, the feeling and understanding of baseball are inseparable from one another. They're intellectuals, empiricists, the kind of guys who believe that the best way to express your love of something is to spend years studying and arguing about it. They talk about sabermetrics in the context of classic economists: "Marx's economic theories are basically sabermetrics," says Aldama.
"It's the elimination of subjectivity." "Opening Day, 1986 - Nolan Ryan warms up in the bullpen before the Astros-SF Giants matchup." via Mike Acosta's Twitter account: @AstrosTalk #dadsknow "I played catch with him," [Chris Archer's] father says. Pitching Comparisons. Rany on the Royals. The Baseball Analysts. Royal Reflections. Wiki Gonzalez.
---