Colors
Multicolour Search Lab - Idée Inc.
EFD279 #95CBE9 #024769 #AFD775 #2C5700 #DE9D7F
In the visual arts, color theory is a body of practical guidance to color mixing and the visual effects of specific color combination. There are also definitions (or categories) of colors based on the color wheel: primary color, secondary color and tertiary color. Although color theory principles first appeared in the writings of Leone Battista Alberti (c.1435) and the notebooks of Leonardo da Vinci (c.1490), a tradition of "colory theory" began in the 18th century, initially within a partisan controversy around Isaac Newton's theory of color (Opticks, 1704) and the nature of so-called primary colors.
Color theory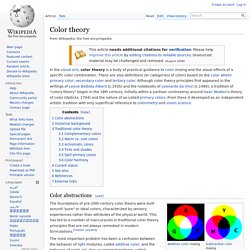 Color Trends, Codes and Palettes for Fashion & Home | Fashion Trendsetter
Not sure for the english name of this tool in Illustrator. Search for Color Guide (Shift+F3). In french, this tool is called : Guide des couleurs. by steamrobin Feb 28
Do you know that Illustrator (CS5) offers a wonderful tool to help choosing colors ? by steamrobin Feb 28
Kind of tool really necessary for design. enjoy ! by steamrobin Feb 13
Infographiste 2D / 3D » palette de couleur