Colors
Multicolour Search Lab - Idée Inc.
EFD279 #95CBE9 #024769 #AFD775 #2C5700 #DE9D7F
In the visual arts, color theory is a body of practical guidance to color mixing and the visual effects of a specific color combination. There are also definitions (or categories) of colors based on the color wheel: primary color, secondary color and tertiary color. Although color theory principles first appeared in the writings of Leone Battista Alberti (c.1435) and the notebooks of Leonardo da Vinci (c.1490), a tradition of "colory theory" began in the 18th century, initially within a partisan controversy around Isaac Newton's theory of color (Opticks, 1704) and the nature of so-called primary colors.
Color theory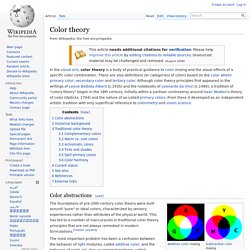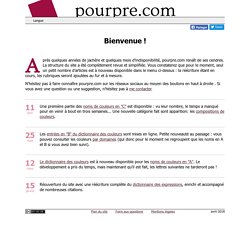 Ce site propose des articles consacrés à la couleur: le phénomène physique, la perception des couleurs, la langue française et la couleur, des questions-réponses, un glossaire, une présentation des principaux modèles et nuanciers de couleurs, quelques jeux, une sélection de liens... Sont également disponibles: : un dictionnaire de 522 noms de couleurs, accompagné d'un dictionnaire imaginaire alimenté par les internautes (inventez votre propre nom de couleur), Le chromograf: un ensemble d'outils en ligne pour manipuler la couleur et créer des dégradés, N Chromafiltre: un bel outil en Flash pour aider à l'accord des couleurs: visualisez votre couleur sur une roue chromatique, trouvez des teintes qui s'accordent, La Boite à couleurs: un logiciel gratuit pour récupérer une couleur sur l'écran, et modifier ou convertir facilement celle-ci. Pour vous tenir informé des mises à jour mineures sur le site, un fil RSS est à votre disposition :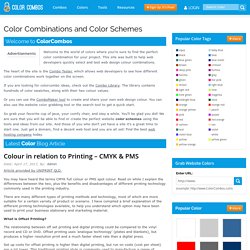 Welcome to ColorCombos Advertisements Welcome to the world of colors where you're sure to find the perfect color combination for your project. This site was built to help web developers quickly select and test web design colour combinations.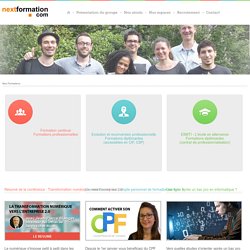 Infographiste 2D / 3D » palette de couleur
Focus sur... Les formations dédiées aux Intermittents du spectacle Les formations éligibles au CSP