Ireland .tel
Mayo Tel
Mayo.Tel is the mobile phone network for County Mayo, Ireland, linking Mayo businesses, organisations and communities to the mobile web. Mayo.Tel is optimised for the mobile internet and can be accessed by any device connected to the web - mobile phones, smart phones, iPhone, Blackberry, netbook etc. Mayo is the first county in Ireland to get its own mobile phone directory with the launch of Mayo.Tel and a county-wide network of local directories. Towns throughout Mayo from Belmullet to Ballinrobe and Clare Island to Charlestown now have access to local businesses and important community phone numbers on their mobile phone browser which can be dialled automatically (click-to-call) from anywhere in the world. .Tel directories, uniquely, can include all of an individual's or businesses contact information, including links to sites like Twitter and Facebook, which is very important as social networking plays a bigger role in business life.
Ireland, at the west coast in County Mayo. Created by Anthony Hickey, a former journalist. by stateoftel Dec 30
Anthony Hickey
In addition to this profile: Anthony Hickey was a journalist at Western People, a regional newspaper in County Mayo. by stateoftel Dec 30
Blacknight Solutions
Ireland, to the south-west of Dublin. Domain name registration and webhosting company that partners with Parallels and Comodo. Offers .tel domains at a reduced price. Offered free .tel domains during a limited period of time in 2009. Person: Michele Neylon (founder and owner). by stateoftel Dec 23
Michele Neylon
CEO of a fast-growing company, Blacknight Solutions (an ICANN accredited registrar), in a fast-moving industry I am committed to expanding our client base both nationally and internationally. I believe that innovation and high professional standards are the key to success. I am actively involved in internet policy development and am currently involved in several working groups within the ICANN GNSO as well as sitting on the Eurid Registrar Advisory Board. NB: Please do not ask me for a recommendation unless you've actually done work for me / my company. Specialties Domains, DNS, hosting,marketing,blogging,internet policy
In addition to this profile: in a blog post Michele Neylon said: 'Forget .com, .tel is going to be better than sliced bread'. And: 'The concept behind .tel is sheer genius.' by stateoftel Dec 16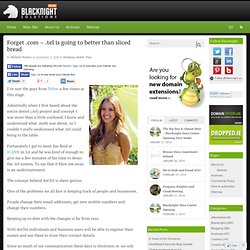 I've met the guys from Telnic a few times at this stage. Admittedly when I first heard about the entire dottel (.tel) project and concept I was more than a little confused. I knew and understood what .mobi was about, so I couldn't really understand what .tel could bring to the table. Fortunately I got to meet Jim Reid at ICANN in LA and he was kind of enough to give me a few minutes of his time to demo the .tel system.
Blog Post
Michele Neylon is founder and owner of Blacknight Solutions, a domain name registration and webhosting company that promotes .tel domains. by stateoftel Dec 21
Switzerland, to the north of Zürich. Leading company in automation and virtualization software for computer, technology and IT companies and service providers. Partners with Domaine France, Blacknight Solutions (Ireland), amongst others. by stateoftel Dec 23
United States, to the south of New York. Company that secures and authenticates the online transactions, communications and endpoints for business customers and individual users. Partners with Blacknight Solutions, amongst others. by stateoftel Dec 16