England .tel
Tel Webpage
One US
Tel Twibe
TelRise
Ask Tel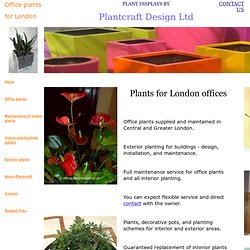 Plantcraft Design
Plants for London offices Office plants supplied and maintained in Central and Greater London. Exterior planting for buildings - design, installation, and maintenance.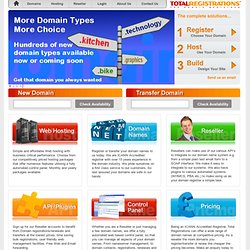 Total Registrations
Sign up for our Reseller accounts to benefit from Domain registrations/renewals and transfers at the lowest prices, time saving bulk registrations, user friendly web management facilities, Free Web and Email forwarding. Whether you are a Reseller or just managing a few domain names, we offer a fully automated web based control panel, so that you can manage all aspects of your domain names. From nameserver management, to domain contacts, registrations, renewals and transfers. With support from our knowledgeable team only one click away. Being an ICANN Accredited Registrar, Total Registrations can offer a wide range of domain names at competitive pricing. As a reseller the more domains you register/transfer or renew the cheaper the pricing becomes.
Tel Reg
Harwood Léon
Successful Entrepreneur/Developer with product planning and delivery expertise. A visionary in product strategy, system design, project management, high availability and UX skills. Approachable and experienced team manager of agile environments for over 7 years. Confident technical salesman and deal breaker that has negotiated large EMEA contracts with major search companies. Speaker at industry events and organiser of the South West Big Data Meetup group.
Paul Harwood
The Direct Navigation Company. Streamic operates a specialized, experienced and trusted network for domain investors. We work solely with high value portfolio owners, providing access to technology and people at all levels to make sure owners get the best return from their domains.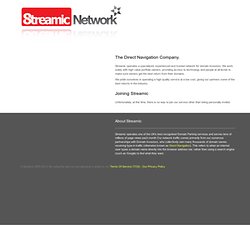 Streamic
TelTags
"Welcome to Seed Network - the home of women's enterprise. Within Seed, women from all walks of life come together to live and work by the feminine principles of sustainable co-operation and mutual empowerment. Through local Seed Circles, learning programmes and online networking, women can support each other within a dynamic and friendly community giving them the opportunity to attain their highest potential.
Seed Network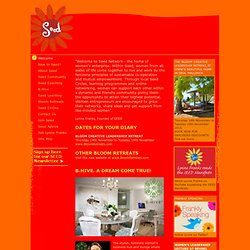 Lynne Franks
Collage
Domain Monster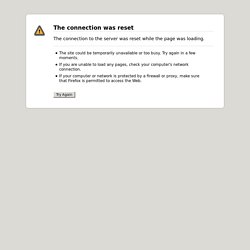 Why choose Domainmonster.com for your Domain Name? Domains are what we do! You simply won't beat our domain prices. With the cheapest UK bulk Domain Registration why would you choose anyone else?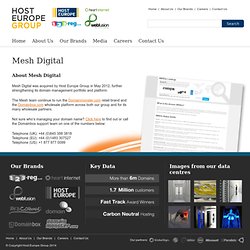 About Mesh Digital Mesh Digital was acquired by Host Europe Group in May 2012, further strengthening its domain management portfolio and platform. The Mesh team continue to run the Domainmonster.com retail brand and the Domainbox.com wholesale platform across both our group and for its many wholesale partners.
Mesh Digital
Keyboard Brains
Dot Tel Ads
Dot Tel Net
Tel The World
Nominate
Nominate is run by BB Online. BB Online was founded in 1997 and became the UK's first operational ICANN accredited registrar in 2000. Nominate offers TLDs (top level domains) plus a range of popular ccTLD's (country code top level domains), and a fully comprehensive domain name maintenance and administration service via our online control panels.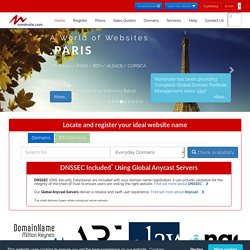 Trademark, Brand and IP Protection - International Domain Registration Reserve your new gTLD today!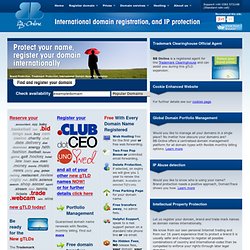 BB Online
Tel Listing