Job search websites
Associate Media Director, Grey San Francisco in San Francisco, CA. 24 Seven Talent: Jobs. Ketchum, Inc. Job Postings. Choose your situation: Situation: The page will not load when I clicked on a job.Solution: Please go directly to the company website you are interested in working for and then find the "Careers" or "Job Opportunities" section. Find the job and apply to the job again. Campaign Coordinator Jobs | Glassdoor.com. Craigslist. Fri Apr 11 Apr 11 Gather seeks a professional pastry production (berkeley) food/beverage/hospitality Apr 11 Bartenders and Servers (alameda) food/beverage/hospitality Apr 11 Qualified Line Cook, Prep Cook, Dish Prep (san rafael) map food/beverage/hospitality.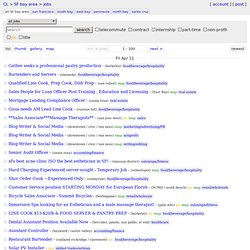 Indeed. Monster. LinkedIn. Dice. Career Builder.
---