WHO ME-WORRY?
88 Important Truths I?ve Learned About Life | Raptitude.com. Everyone gets drilled with certain lessons in life.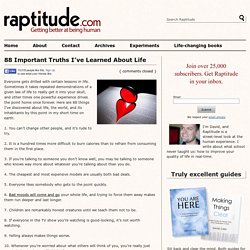 Sometimes it takes repeated demonstrations of a given law of life to really get it into your skull, and other times one powerful experience drives the point home once forever. Here are 88 things I've discovered about life, the world, and its inhabitants by this point in my short time on earth. 1. You can't change other people, and it's rude to try. 2. 2012 Survival.
CHEM-TRAILS
Palestine=Israel. How To Stop Worrying And Start Living By Dale Carnegie. Fahrenheit 911 - The full length movie-Bush cheated in the 2000 election! Michael Moore: Here Comes Trouble. Bio Michael Moore Michael Moore is an Academy Award-winning American filmmaker, author and liberal political commentator.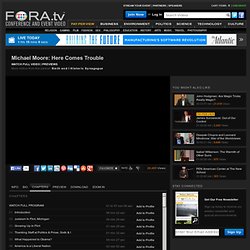 He is the director and producer of Bowling for Columbine, Fahrenheit 9/11, and Sicko, three of the top five highest-grossing documentaries of all time. In September 2008, he released his first free movie on the Internet, Slacker Uprising, documenting his personal crusade to encourage more Americans to vote in presidential elections. He has also written and starred in the TV shows "TV Nation" and "The Awful Truth. " Welcome to MichaelMoore.com. The Weekend WikiLeaks Report.
Occupy Worldwide. T.V.-Yes or NO?
---