SHAKERS AND MAKERS
Get flash to fully experience Pearltrees
Despite living in "the free world", there are very few free men and women walking around in our democracies. Very few indeed. This is because some men and women have a human failing that drives them to want to manipulate others for the sake of power.
Light Touch transforms a projected image into a virtual 10-inch touch screen Image Gallery (8 images) Light Blue Opitcs (LBO) has won the Institution of Engineering and Technology (IET) Innovation Awards 2010 prize for Product Design with its Light Touch interactive projector. The device uses an infra-red touch sensing system that transforms a projected image into a virtual 10-inch touch screen. It allows users to interact with multimedia content and applications by touching the image, which can be projected onto any flat surface. LBO's proprietary holographic laser projection technology (HLP) was first reported on by Gizmag in 2009 , while still in development.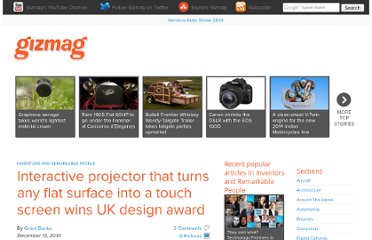 Strategic Intervention Coaching is the new standard for professional communication, understanding, and helping of people. Whether you're a life coach, a helping professional, or simply seeking to communicate with and help people on the highest possible level, you're about to offer a whole new way to create value for anyone you meet. We train people in advanced strategies for resolving the whole range of human challenges in a way that redefines problems so that they can be solved and that leads to greater growth, contribution, and common good. A Strategic Intervention Coach navigates a variety of scenarios ranging from individual problems to those of the couple, the family, the peer group, the organization, and the larger social system.