MUSIC
Caroline Lavelle casts a spell on cello. Eddi Reader sings "Kiteflyer's Hill" Andrew Bird's one-man orchestra of the imagination. The debut of the British Paraorchestra. Spotify's Daniel Ek: The Most Important Man In Music. Liberace - Bumble Boogie. Victor Borge Hands off! The funniest night at opera you could get. Tod Machover and Dan Ellsey play new music. Evelyn Glennie shows how to listen. Benjamin Zander on music and passion.
Scott Rickard: The beautiful math behind the ugliest music. Other Arts & Music. Music. Emile Berliner and the Birth of the Recording Industry: Home Page. The Library of Congress Motion Picture, Broadcasting and Recorded Sound Division, Library of Congress Search by Keyword | Browse by Title Index | Subject Index | Series Index | Name Index | Recordings.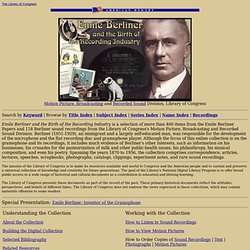 Nellie McKay sings "Mother of Pearl" and "If I Had You" Sirena Huang dazzles on violin. Jennifer Lin improvs piano magic. Jose Abreu on kids transformed by music. Blog Central - World Premiere: Underwater Video for Unreleased Paul McCartney Song. 528 hz secret cancer cure. Yule Log (2 hours long in HD!)
Sound Track "A Tropical Rainforest" - 58 Min. Relaxation Waterfall - 8 Hours - For Meditation Calm Peace Serenity. Thailand, Pembok Falls, Pai. Merlin's Magic - The Heart of Reiki ♪ ★ ★ ★ ★ ★ Spiritual Healing Music - Subliminal Healing. Classical Music-Epic Symphonic Animation-Exuberance by Dunbar (Música Clásica) Singing Crystal Bowls in Moving Love. WATER CRYSTAL RELAXATION HEALING 512KPS HEALTH MEDITATION. Healing Mozart? The Science of Music in Medicine.
The Mozart Effect: Tapping the Power of Music to Heal the Body, Strengthen the Mind, and Unlock the Creative Spirit (9780060937201): Don Campbell. HEALING FREQUENCY. Healing Music |Surgery Music | Lullabies l Mozart Effect- Dr. Alice Cash. Synthesizers.com  ---  Modular Analog Synthesizers for Electronic Music.
---