COOKING SAVES BUCKS
Welcome to the Official Ming Tsai Website. Japanese Food. Healthy Recipes. Healthy Dinner Ideas We've put together tasty healthy dinner ideas, including eight weeks worth of healthy weekly meal plans, complete with the healthy recipes for each day's main dish.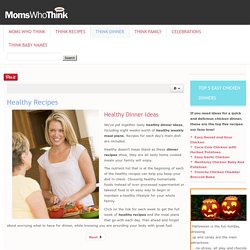 Healthy doesn't mean bland as these dinner recipes show, they are all tasty home cooked meals your family will enjoy. The nutrient list that is at the beginning of each of the healthy recipes can help you keep your diet in check. Healthy Recipes and Recipe Calculator From SparkRecipes.com. Healthy Recipes and Meal Ideas. Food Network Magazine Blog Social Videos.
Britta Riley: A garden in my apartment. Louise Fresco on feeding the whole world. Homaro Cantu + Ben Roche: Cooking as alchemy. Hug them, Eat them. Cooking With Love. COOKING. Recipes. Cooking. Vegetarian. Vegetar/vegan. Vegan. Cooking. Cooking.
---