CODE BREAKER
Hurricane Sandy 2012: Bloomberg warns New York faces 'days' in darkness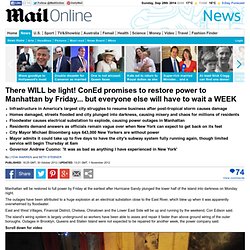 Infrastructure in America's largest city struggles to resume business after post-tropical storm causes damage Homes damaged, streets flooded and city plunged into darkness, causing misery and chaos for millions of residents Floodwater causes electrical substation to explode, causing power outages in Manhattan Residents demand answers as officials remain vague over when New York can expect to get back on its feet City Mayor Michael Bloomberg says 643,000 New Yorkers are without power Mayor admits it could take up to five days to have the city's subway system fully running again, though limited service will begin Thursday at 6am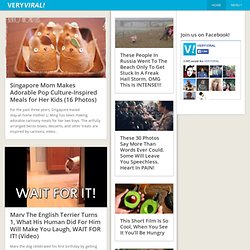 Pearltrees.com - (Private Browsing)
Domain Report Pearltrees.com is linked to public IP address 88.191.80.173 which is currently hosted by Free SAS. We valuate pearltrees.com at $232,240 USD because it could be making around $327 USD per day.
New! Now works without Java! New! Now translates prosigns!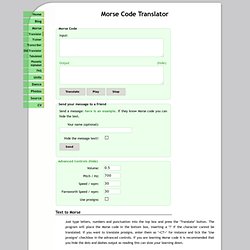 Morse Test #25611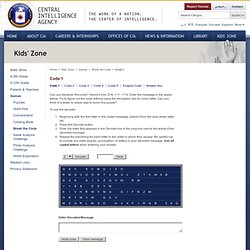 Can you decipher this code? Here's a hint: Z=A; +=1; ~=10. Enter the message in the space below. Try to figure out the code without using the decryption tool for every letter.
Code 1
How to Create Easy and Tough to Break Substitution Codes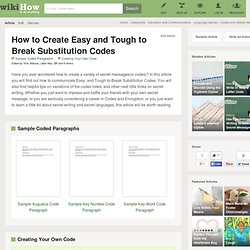 Edit Edited by Viral, Maluniu, Lillian May, BR and 6 others Have you ever wondered how to create a variety of secret messages(or codes)? In this article you will find out how to communicate Easy- and Tough-to-Break Substitution Codes. You will also find helpful tips on variations of the codes listed, and other neat little tricks on secret writing.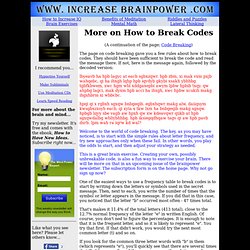 (A continuation of the page; Code Breaking ) The page on code breaking gave you a few rules about how to break codes. They should have been sufficient to break the code and read the message there.
More on How to Break Codes
CryptoKids® America's Future Codemakers & Codebreakers
Other Language Arts