Research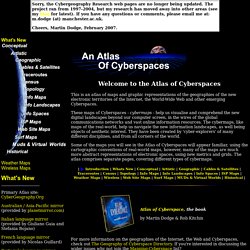 This is an atlas of maps and graphic representations of the geographies of the new electronic territories of the Internet, the World-Wide Web and other emerging Cyberspaces.
An Atlas of Cyberspaces
data visualization - Google Search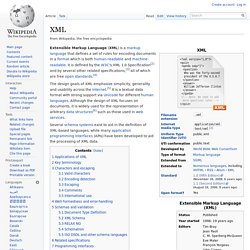 Extensible Markup Language ( XML ) is a markup language that defines a set of rules for encoding documents in a format that is both human-readable and machine-readable . It is defined in the XML 1.0 Specification [ 3 ] produced by the W3C , and several other related specifications, [ 4 ] all gratis open standards . [ 5 ] The design goals of XML emphasize simplicity, generality, and usability over the Internet . [ 6 ] It is a textual data format with strong support via Unicode for the languages of the world. Although the design of XML focuses on documents, it is widely used for the representation of arbitrary data structures , for example in web services . Many application programming interfaces (APIs) have been developed to aid software developers with processing XML data, and several schema systems exist to aid in the definition of XML-based languages.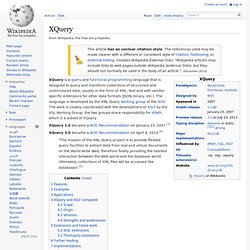 XQuery
XQuery is a query and functional programming language that is designed to query collections of XML data.
XPath , the XML Path Language , is a query language for selecting nodes from an XML document. In addition, XPath may be used to compute values (e.g., strings , numbers, or Boolean values) from the content of an XML document. XPath was defined by the World Wide Web Consortium (W3C). [ 1 ] [ edit ] Overview The XPath language is based on a tree representation of the XML document, and provides the ability to navigate around the tree, selecting nodes by a variety of criteria. [ 2 ] In popular use (though not in the official specification), an XPath expression is often referred to simply as "an XPath".
XPath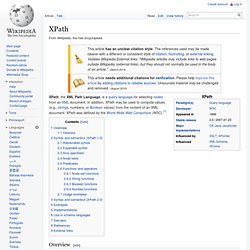 An XML schema is a description of a type of XML document, typically expressed in terms of constraints on the structure and content of documents of that type, above and beyond the basic syntactical constraints imposed by XML itself. These constraints are generally expressed using some combination of grammatical rules governing the order of elements, Boolean predicates that the content must satisfy, data types governing the content of elements and attributes, and more specialized rules such as uniqueness and referential integrity constraints. There are languages developed specifically to express XML schemas. The Document Type Definition (DTD) language, which is native to the XML specification, is a schema language that is of relatively limited capability, but that also has other uses in XML aside from the expression of schemas. Two more expressive XML schema languages in widespread use are XML Schema (with a capital S ) and RELAX NG .
XML schema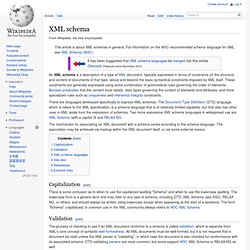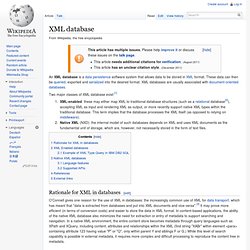 An XML database a data persistence software system that allows data to be stored in XML format. These data can then be queried , exported and serialized into the desired format. XML databases are usually associated with document-oriented databases . Two major classes of XML database exist: [ 1 ] XML-enabled : these may either map XML to traditional database structures (such as a relational database [ 2 ] ), accepting XML as input and rendering XML as output, or more recently support native XML types within the traditional database. This term implies that the database processes the XML itself (as opposed to relying on middleware ).
XML database
XSLT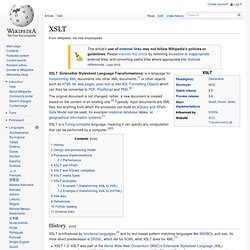 XSLT ( Extensible Stylesheet Language Transformations ) is a language for transforming XML documents into other XML documents, [ 1 ] or other objects such as HTML for web pages , plain text or into XSL Formatting Objects which can then be converted to PDF , PostScript and PNG . [ 2 ] The original document is not changed; rather, a new document is created based on the content of an existing one. [ 3 ] Typically, input documents are XML files, but anything from which the processor can build an XQuery and XPath Data Model can be used, for example relational database tables, or geographical information systems . [ 1 ] XSLT is a Turing-complete language, meaning it can perform any calculation that can be performed by a modern computer program. [ 4 ] [ 5 ]
Data architecture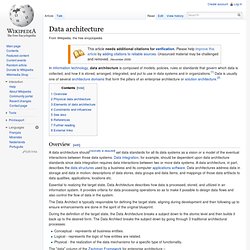 In information technology , data architecture is composed of models, policies, rules or standards that govern which data is collected, and how it is stored, arranged, integrated, and put to use in data systems and in organizations. [ 1 ] Datad is usually one of several architecture domains that form the pillars of an enterprise architecture or solution architecture . [ 2 ] [ edit ] Overview A data architecture should [ neutrality is disputed ] set data standards for all its data systems as a vision or a model of the eventual interactions between those data systems. Data integration , for example, should be dependent upon data architecture standards since data integration requires data interactions between two or more data systems.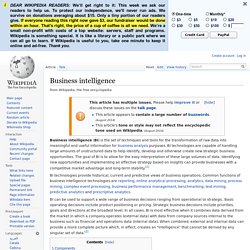 Business intelligence ( BI ) is a set of theories, methodologies, processes, architectures, and technologies that transform raw data into meaningful and useful information for business purposes.
logiciel gratuit de sondage en ligne et d'enquête par questionnaire
Predictive analytics encompasses a variety of techniques from statistics , modeling , machine learning , and data mining that analyze current and historical facts to make predictions about future, or otherwise unknown, events. [ 1 ] [ 2 ]
Predictive analytics