Software
Top things to do after installing Ubuntu Linux 9.10 Karmic Koala. See the new version: Ubuntu 10.04 Post-Install Guide: What to do and try after installing Lucid Lynx!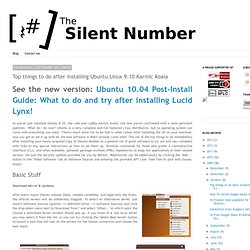 So you've just installed Ubuntu 9.10, the cute and cuddly Karmic Koala, but now you're confronted with a most pertinent question, "What do i do now? " Ubuntu is a very complete and full-featured Linux distribution, but no operating system can come with everything you want. There's much more fun to be had in what comes after installing the OS on your machine: now you get to set it up with all the best software it didn't already come with!
The Great Flickr Tools Collection. Looking for Flickr Tools, hacks and services for a powerful photo sharing experience?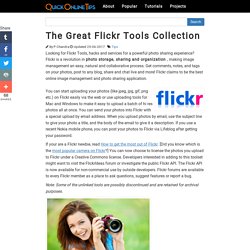 Flickr is a revolution in photo storage, sharing and organization , making image management an easy, natural and collaborative process. Get comments, notes, and tags on your photos, post to any blog, share and chat live and more! Flickr claims to be the best online image management and photo sharing application. Advertisements. Techy Stuff » Even More Gaming In Ubuntu Feisty... Little Ubuntu » Blog Archive » Awesome Ubuntu/Linux Apps you might not know about.
---