Converter
You may have noticed that the video of Burn-E I embedded looked a bit better than a normal YouTube video. YouTube has been quietly offering high-quality versions of some of their videos for quite some time via a "watch in high quality" link just underneath the player. It's not HD, but it's definitely an upgrade of YouTube's legendarily crappy video quality. By default all videos on YouTube and embedded on other sites load at normal quality, but there's a way to set your default viewing quality to high, link to high quality video, embed HQ video, and even save HQ videos for later viewing.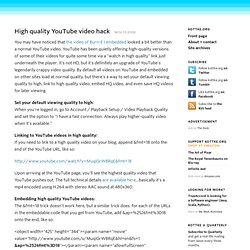 High quality YouTube video hack
The fastest and easiest way to download videos or download YouTube music as MP3 for your MP3-player! Thanks to the built-in converter you only need one click to download and convert your video with any video codec (DivX, Xvid, MPEG4, H.264, ...) and file format (AVI, MP3, MP4, MKV, ...). There are many different software applications to download and/or convert videos, but none are more easy to use yet feature-rich than our YouTube Downloader!