Science/Skepticism Blogs
Come join the Skeptic Society for our trip to Area 51 and other alien landscapes, Martin Luther King weekend (January 18-20), 2014. We will spend 3 days exploring the "Extraterrestrial Highway" (with lunch at the Little A'Le'inn), collecting trilobites, and visiting the National Atomic Testing Museum and their UFO exhibit, as well as the alien landscape of Valley of Fire State Park and Calico Ghost Town. Both nights will be spent at the MGM Grand Hotel in Las Vegas. For further details, see this link.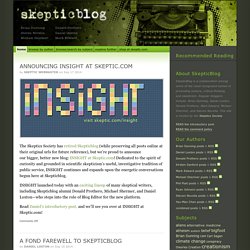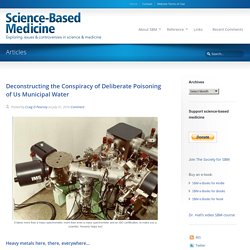 Preventing Tooth Decay in Kids: Fluoride and the Role of Non-Dentist Health Care Providers The following post is a collaborative effort between myself and science-based dentist Grant Ritchey DDS. Dr. Ritchey is a co-host of the always excellent The Prism Podcast, most recently interviewing Dr.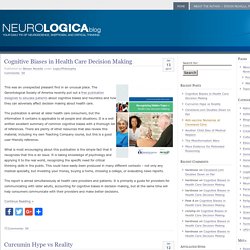 Apr 10 2014 I will be at NECSS this weekend – the Northeast Conference on Science and Skepticism, in New York City. This is an excellent conference full of science and critical thinking lectures and panels. My podcast, the SGU, will be recording a live show on stage Saturday. I will also be running two 1-hour workshops on critical thinking on Friday. I will be moderating a panel debate on GMO which should be very exciting.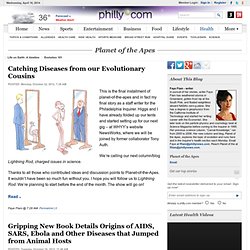 POSTED: Sunday, September 30, 2012, 12:34 PM Peter Andolfatto One of the more difficult aspects of evolution for some people to swallow is the notion that random copying errors in DNA can add up to anything useful. In two recently published projects, however, scientists show how typos can indeed lead to improvements. In numerous species of insects, they document the DNA errors that led to changes that are not only beneficial but also brilliant. Various species of beetles, aphids, butterflies, and moths have independently acquired genetic errors that allow them to eat highly toxic plants and then use the toxins to defend themselves against predators.
Planet of the Apes
Among virtually all scientists, dualism is dead. Our thoughts and actions are the outputs of a computer made of meat—our brain—a computer that must obey the laws of physics. Our choices, therefore, must also obey those laws. This puts paid to the traditional idea of dualistic or "libertarian" free will: that our lives comprise a series of decisions in which we could have chosen otherwise. We know now that we can never do otherwise, and we know it in two ways.The first is from scientific experience, which shows no evidence for a mind separate from the physical brain.