Science/Skepticism Blogs
The "Creation Museum" in Petersburg, Kentucky, ironically built upon rocks which disprove Noah's flood A foolish man, which built his house upon the sand—Matthew 7: 24-27.Speak to the earth and it shall teach thee—Job 12:8 During the Ham on Nye debate last February 4, Bill led off with a great example to throw Ken off balance. He pointed out that (ironically), the Creation "Museum" itself was built upon rocks which refuted flood geology!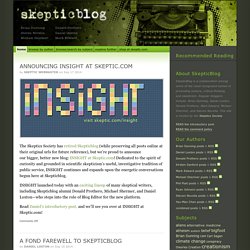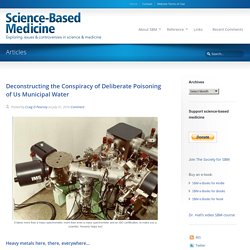 Announcing the Society for Science-Based Medicine We are proud to announce a new organization: The Society for Science-Based Medicine. A Society for a community of like-minded individuals, both in and out of health care, who support the goals of Science-Based Medicine. People should not suffer, die, go bankrupt, and lose time and hope because of complementary and alternative pseudo-medicine.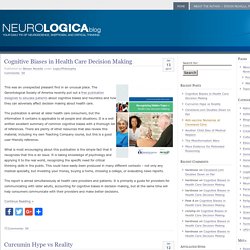 Apr 10 2014 I will be at NECSS this weekend – the Northeast Conference on Science and Skepticism, in New York City. This is an excellent conference full of science and critical thinking lectures and panels. My podcast, the SGU, will be recording a live show on stage Saturday. I will also be running two 1-hour workshops on critical thinking on Friday. I will be moderating a panel debate on GMO which should be very exciting.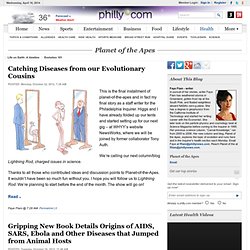 POSTED: Sunday, September 30, 2012, 12:34 PM Peter Andolfatto One of the more difficult aspects of evolution for some people to swallow is the notion that random copying errors in DNA can add up to anything useful. In two recently published projects, however, scientists show how typos can indeed lead to improvements. In numerous species of insects, they document the DNA errors that led to changes that are not only beneficial but also brilliant. Various species of beetles, aphids, butterflies, and moths have independently acquired genetic errors that allow them to eat highly toxic plants and then use the toxins to defend themselves against predators.
Planet of the Apes
I'm always amused by those readers who, because I've blocked them on one ground or another, send me angry emails accusing me of censoring them. But that's not really censorship; it's my website and I have the right to determine what appears on it. Those people have every right to start their own website, and, to be sure, it doesn't cost much! Nor is it censorship for a magazine to reject an article, no matter what it says. Similarly, the Discovery Institute, when it gave me the huge honor of being "Censor of the Year," did so mainly because I complained to Ball State University (and the Freedom from Religion Foundation) that Professor Eric Hedin was teaching intelligent design and promoting Christianity in a science class at Ball State University: a double whammy of pushing discredited science and violating the First Amendment.