Quad
Vaclav Smil does interdisciplinary research in the fields of energy, environmental and population change, food production and nutrition, technical innovation, risk assessment, and public policy. He has published more than 30 books and some 400 papers on these topics. He is a Distinguished Professor Emeritus at the University of Manitoba, a Fellow of the Royal Society of Canada (Science Academy), the first non-American to receive the American Association for the Advancement of Science Award for Public Understanding of Science and Technology, and in 2010 he was listed by Foreign Policy among the top 100 global thinkers. He has worked as a consultant for many US, EU and international institutions, has been an invited speaker in more than 300 conferences and workshops in the USA, Canada, Europe, Asia and Africa, and has lectured at many universities in North America, Europe and East Asia. His wife Eva is a physician and his son David is an organic synthetic chemist.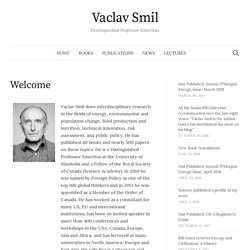 Vaclav Smil « Distinguished Professor Emeritus Vaclav Smil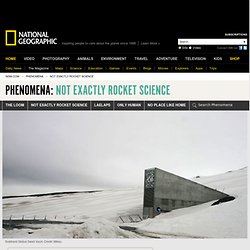 Can We Apocalypse-Proof the World's Knowledge with DNA?
This piece was originally published at BBC Future. Neither Ewan Birney nor Nick Goldman can remember exactly how they came up with the idea of storing all the world's knowledge in DNA. They know it happened in the bar of the Gastwerk Hotel in Hamburg, and that many beers were involved. They may or may not have scrawled their ideas on a napkin.
Editors' Note: It has been one year since scientists announced the discovery of a particle believed to be Higgs. Read this essay by a Nobel prize winner in physics and share your comments on our Facebook page. Imagine a planet encrusted with ice, beneath which a vast ocean lies. (Imagine Europa.) Within that ocean a species of brilliant fish evolved. Those fish were so intelligent that they took up physics, and formulated the laws that govern motion.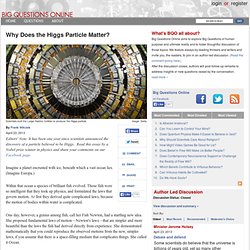 Why Does the Higgs Particle Matter?
Front Page - The Long Now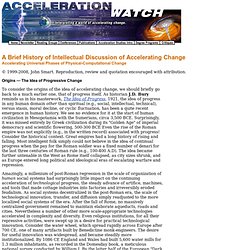 Origins — The Idea of Progressive Change To consider the origins of the idea of accelerating change, we should briefly go back to a much earlier one, that of progress itself. As Historian J.D.
A Brief History of Intellectual Discussion of Accelerating Change
Mark Blyth: Austerity - The History of a Dangerous Idea
Cette vidéo est actuellement indisponible. Désolé, cette vidéo n'est pas disponible sur cet appareil. Le lecteur vidéo est trop petit. Lire Pause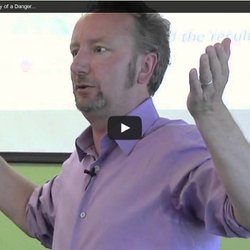 A curatedcommunityblogA community discussion boardA source of edited rationality materials ... And a promoter of regular meetups around the world. Less Wrong is: In the past four decades, behavioral economists and cognitive psychologists have discovered many cognitive biases human brains fall prey to when thinking and deciding. Less Wrong is an online community for people who want to apply the discovery of biases like the conjunction fallacy, the affect heuristic, and scope insensitivity in order to fix their own thinking.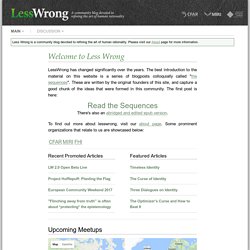 Welcome to Less Wrong
Edge : Conversations on the edge of human knowledge
"Take a look. No matter who you are, you are bound to find something that will drive you crazy." —The New York Times, January 14, 2014 "A forum for the world's most brilliant minds." What it feels like to be an Atheist I've always been an atheist, I know nothing else. From my earliest memory of considering the question, I'm talking maybe age three or four, I was skeptical as hell. The God stories just didn't add up. I'm amazed everyday of my life that everyone isn't an atheist like me.
What it's Like to be an Atheist
Introduction to the Spacetime Continuum, Einstein's Relativity, and Quantum Theories for beginning and advanced visitors, with Links to the Best Websites on Quantum Gravity, Higg's Boson, Dark Matter and Energy, plus a discussion of the possibility that we live in an essentially atemporal universe. The Links are the most valuable feature of this website, including a link to the NOVA series Fabric of the Cosmos. MAJOR NEWS! On March 17, 2014 a team of Astrophysicists announced the First Direct Evidence of Cosmic Inflation and the First Images of Gravitational Waves (ripples in space-time). The swirly B-mode pattern is a unique signature of gravitational waves. If you are looking for a few paragraph answer to the question "What is Space-Time?"
Spacetime - Einstein's Relativity, Space, Time, Quantum Gravity, Quantum Physics, and the Existence of Time