Handy sites
Reasons to love living in Japan & Notes From Tokyo. Hello!
Here I am again, after a few days away, with a gift for you: a great post written by my sweetheart friend . Before leaving Tokyo and back to Los Angeles, Eva wrote 65 reasons why she loved living in Tokyo. It's just amazing how she managed to put all these points together. 21 Scathingly Witty Insults By Famous People: Pics, Videos, Links, News.
Video E Cards for Free - Electronic Cards - E Cards for Free | Rattlebox. Rattlebox.com is the best site on the web for free video ecards that don't suck.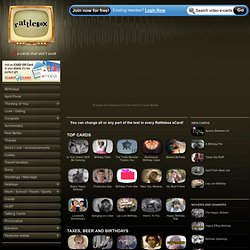 Our free, funny electronic cards are perfect for every occasion. Rattlebox video ecards range from sexy, provocative, adult ecards to sweet love e-cards without the sappy suck factor. Our collection of online video e-cards includes animated ecards, vintage films and video. They're the perfect eco-friendly way to connect with friends, family and coworkers. Dubstep Saved My Life.
---