Wiki's and TV show info
Twilight Saga Wiki
Criminal Minds Wiki
Aaron "Hotch" Hotchner is a fictional character from the CBS crime drama Criminal Minds , portrayed by Thomas Gibson . He is a Supervisory Special Agent within the FBI 's Behavioral Analysis Unit , and has appeared from the series' pilot episode " Extreme Aggressor ", which was originally broadcast on September 22, 2005. Hotch begins the series married to his high school sweetheart Haley ( Meredith Monroe ).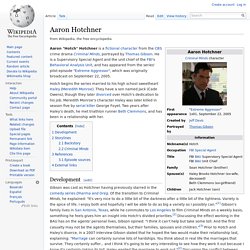 Aaron Hotchner
the Angel/Spike Timeline
StargateWiki
Xena And Hercules Wiki
In general, the Olympians are the gods who live on Mount Olympus , all of them somehow related to the supreme god Zeus . More specifically, the Twelve Olympians are the major deities of the Greek pantheon : Zeus , Hera , Poseidon , Demeter , Athena , Hestia , Apollo , Artemis , Ares , Aphrodite , Hephaestus , and Hermes . Hestia was often replaced by Dionysus . Hades and Persephone were sometimes included as part of the twelve Olympians (primarily due to the influence of the Eleusinian Mysteries ), although in general Hades was excluded, because he resided permanently in the underworld and never visited Mount Olympus. Other gods, like Heracles or Asclepius , could also be included.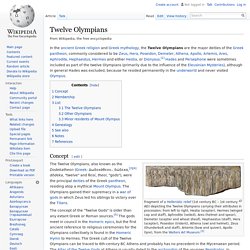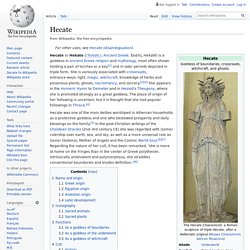 Hecate or Hekate ( pron.: / ˈ h ɛ k ə t iː / ; ancient Greek Ἑκάτη , Hekátē ; / ˈ h ɛ k ə t / ) is an ancient goddess, most often shown holding two torches or a key [ 1 ] and in later periods depicted in triple form. She is variously associated with crossroads, entrance-ways, fire, light, the Moon, magic, witchcraft, knowledge of herbs and poisonous plants, necromancy, and sorcery. [ 2 ] [ 3 ] She has rulership over earth, sea and sky, as well as a more universal role as Saviour (Soteira), Mother of Angels and the Cosmic World Soul. [ 4 ] [ 5 ] She was one of the main deities worshiped in Athenian households as a protective goddess and one who bestowed prosperity and daily blessings on the family. [ 6 ] Hecate may have originated among the Carians of Anatolia , where variants of her name are found as names given to children.
Charmed Wiki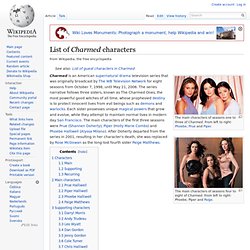 The triquetra symbol used frequently on Charmed to represent the Power of Three The following is a list of characters from the Charmed universe , including the Warner Bros. television series Charmed and its spin-off material. The characters were created chiefly by Constance M. Burge and showrunner Brad Kern , as well as by other producers and writers affiliated with the Charmed franchise. [ edit ] Main characters
List of Charmed characters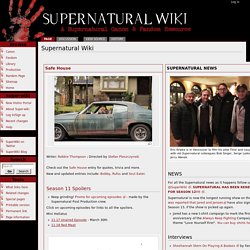 Check our episode entry 8.18 Freaks and Geeks for all the music and pop culture references, and the mythology of Vampires . You can also find out more about the teenaged hunters Krissy Chambers , Aiden , Josephine Barnes along with Victor Rogers and Seth . Upcoming Episodes Finale will air 15th May.
Highlander Wiki
The Sentinel
The Sentinel is an American television show from the late 1990s. In the west-coast city of Cascade, Jim Ellison is a cop with super-heightened senses. Blair Sandburg is an anthropology student who can teach Jim how to use those senses to his advantage. Together, they fight crime! (and live together) The show is generally considered to be a fairly classic buddy cop fandom , though one with extra added science-fictional and/or mystical canon.