Sew/clothes
Guest Blogger ~Ruffles and Stuff~ I am more than thrilled to tell you who I have invited today!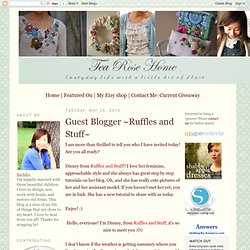 Are you all ready? Disney from Ruffles and Stuff!! I love her feminine, approachable style and she always has great step by step tutorials on her blog. Quick Envelope Pillow Case. Book Nerd. Book Nerd Olá!
Primeiro quero dizer que estou oficialmente de férias! Há uma hora atrás tive o meu último exame Não correu muito bem mas tou de férias não interessa! Bem ao ler alguns dos meus posts podem ter reparado que adoro ler! E também adoro aquelas t-shirts com letras gigantes, por isso decidi fazer isto: The Madeleine Mini Bloomers. Valentine's day is coming this weekend, and whether you love it or hate it, you must admit having something adorable to lounge around in makes any day that much sweeter.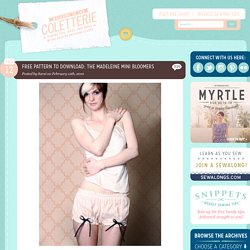 So I present to you the madeleine mini bloomers, a free sewing pattern that you can download! It takes only a yard of fabric (along with some elastic and ribbon), and an hour or two of sewing to whip up these pretties. These are no prim and proper Victorian bloomers, as you can see. They sit low on the waist, and are scandalously brief. Watermark Tee. Hello U-Create readers!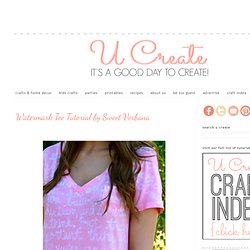 I am so excited to be guest posting here today. It just so happens to be my first guest post and I'm still a little shocked that it's here at Ucreate, one of my favorite blogs! A little bit about me.. I'm from a little town called Keller, Texas. I'm a junior at Texas A&M University (whoop!). The Convertible "Infinity" Dress. I made this thing.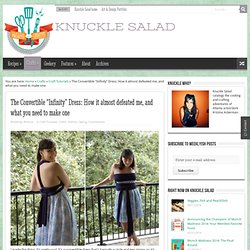 It's pretty cool. It's a convertible dress that's basically a circle and two straps, so it's really easy, inexpensive, and crazy versatile. Sweetheart Ballet Tee. Here's yet another way to spice up your t-shirts when you get a little bored with the plainness of them all.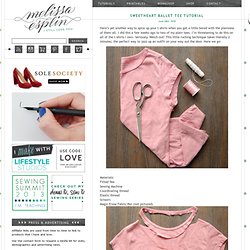 I did this a few weeks ago to two of my plain tees. I'm threatening to do this on all of the t-shirts I own. Bleaching Experiment.
---