Streaming & P2P
Truly Decentralized BitTorrent Downloading Has Finally Arrived
BitTorrent is a great technology to share files both quickly and efficiently, but like most other P2P-technologies it has an Achilles' heel. The download process relies in part on central servers that can crash or go offline for a variety of reasons. To address this vulnerability the first truly decentralized BitTorrent/P2P client has been developed, meaning that no central trackers, or even BitTorrent search engines are required to download movies, software and music.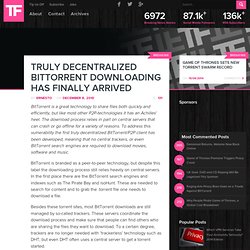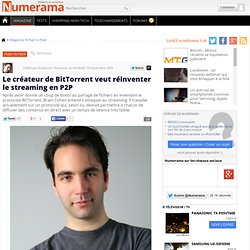 L'idée de faire du streaming en P2P n'est pas nouvelle, loin s'en faut. Il y a déjà de nombreuses années que les premières technologies ont fait leur apparition, notamment en France avec la société 1-Click qui avait diffusé certains matchs de Roland Garros en peer-to-peer. Mais ce sont les Chinois qui dominent aujourd'hui véritablement le marché. Xunlei, PPLive, PPStream, QQLive, UUSee ou encore Tudou sont des noms bien connus y compris en occident. Les amateurs de sport trouvent en effet dans ces logiciels les moyens de regarder gratuitement la plupart des matchs de football ou des rencontres de tennis lors des Grand Chelems.
Le créateur de BitTorrent veut réinventer le streaming en P2P -
La TV néerlandaise s'essaie à la diffusion de contenus via BitTo
Longtemps, le peer-to-peer fut exclusivement associé au piratage. Les ayants droit poussaient régulièrement les politiques à considérer cette technologie comme un moyen fort pratique pour contourner la législation sur le droit d'auteur. Si ce dernier point est une réalité, il serait illusoire de penser que cet outil n'a servi qu'au téléchargement illicite. En effet, de nombreux contre-exemples sont venus contredire la vision quelque fois binaire de l'industrie culturelle sur les réseaux d'échange. Dernier exemple en date, le coup de pouce inattendu du gouvernement britannique : le Trésor britannique a mis plusieurs fichiers torrent afin de permettre aux citoyens britanniques de savoir comment le gouvernement a dépensé l'argent du contribuable depuis deux ans.