Net neutrality around the world
UK government proposal to dump Net Neutrality will not create a free market. You can't leave government alone for a minute can you?
One minute they are heaping garlands on the tech industry with TechCity proposals and the like. The next minute they are proposing to dump Net Neutrality – the entire reason we had a flowering of innovation in the first place. UK Communications Minister Ed Vaizey said in a speech at an Financial Times conference today that Internet service providers should be allowed to favour traffic from one content provider over another, so long as the user was aware this was happening. La neutralité du net bientôt sabordée au Royaume Uni ? La neutralité du net continue a faire débat, mais cette fois outre-Manche.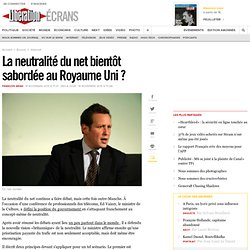 À l'occasion d'une conférence de professionnels des télécoms, Ed Vaizey, le ministre de la Culture, a défini la position du gouvernement en s'attaquant franchement au concept-même de neutralité. Après avoir résumé les débats ayant lieu un peu partout dans le monde , il a défendu la nouvelle vision «britannique» de la neutralité. Le ministre affirme ensuite qu'une priorisation payante du trafic est non seulement acceptable, mais doit même être encouragée.
Il décrit deux principes devant s'appliquer pour un tel scénario. Le premier est «l'ouverture», les internautes devant pouvoir accéder librement aux contenus ou services légaux.
---