Mortgage crisis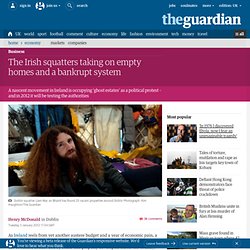 Liam Mac an Bháird, who has found 25 vacant properties around Dublin for squatting. Photograph: Kim Haughton/The Guardian As Ireland reels from yet another austere budget and a year of economic pain, a group of young activists have begun to take over empty properties spawned by the boomand abandoned by banks and property developers across the country. The squatters, linked to Ireland's Occupy movement , say they plan a mass occupation of houses and flats owned by the Irish government's "bad bank", National Asset Management Agency (Nama), which took over thousands of properties that speculators handed back after the crash.
The Irish squatters taking on empty homes and a bankrupt system | Business
This post was written by Frank Barry Anthony Murphy, now at the Dallas Fed, is a renowned Irish econometrician with a strong research interest in housing markets. Back in 2004 he was commissioned by the National Competitiveness Council to study the competitiveness implications of the housing boom. The first paragraph of his report read: "Ireland's booming housing market has attracted and continues to attract a considerable amount of attention, both domestically and internationally. Irish house prices are extremely high by historic and international standards, both in absolute terms and relative to incomes. The strength and duration of the house price boom is unique.
Authorities refused to publish house price warnings in 2004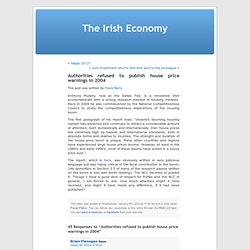 Ireland's house prices at lowest levels since 2000 | Business
Houses in Dublin, where prices have crashed in the past five years. Photograph: Barry Mason/Alamy Property prices in Ireland are in freefall, according to housing analysts, whose latest figures show that prices in Dublin have collapsed by 65% in five years and by 60% across the country. A house price index released by the largest residential sales group – the Sherry FitzGerald Group – found that the pace of deflation has sped up in Dublin, while prices across the country are now at levels last seen 11 years ago. The group, which has been surveying a weighted basket of 1,500 properties since 1999, said residential property in Dublin was now worth 64.2% less than at the 2006 peak, with a national fall of 58.8%.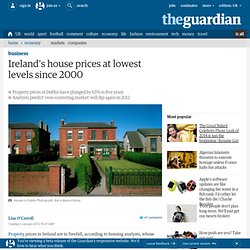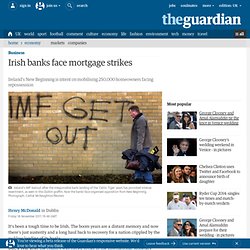 Irish banks face mortgage strikes | Business
It's been a tough time to be Irish. The boom years are a distant memory and now there's just austerity and a long haul back to recovery for a nation crippled by the reckless lending of its banks. But, a year after the country was forced to call in the International Monetary Fund (IMF), there is a sign that the people are fighting back and targeting the hated lenders with the "nuclear option" of a mortgage strike. Ross Maguire is the co-founder of New Beginning, a new de-facto trade union for Irish mortgage holders and those in debt distress with banks, which aims to recruit 10,000 members in a movement that has strong parallels with the Occupy protests that have swept through scores of countries. "The nuclear weapon is for borrowers acting in concert and to say that unless proper and sustainable solutions are put in place which are fair and reasonable, then we should not continue to pay under these current conditions," he says.
Central Bank of Ireland - Central Bank Publishes New Research on Mortgage Arrears and Negative Equity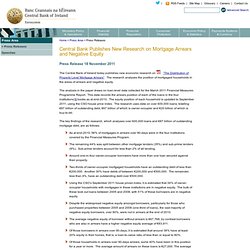 The Central Bank of Ireland today publishes new economic research on "The Distribution of Property Level Mortgage Arrears" . The research analyses the position of mortgaged households in the areas of arrears and negative equity.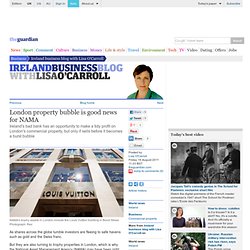 London property bubble is good news for NAMA | Business
NAMA's trophy assets in London include the Louis Vuitton building in Bond Street. Photograph: Rex As shares across the globe tumble investors are fleeing to safe havens such as gold and the Swiss franc. But they are also turning to trophy properties in London, which is why the National Asset Management Agency (NAMA) may have been right earlier this year when it let slip it was launching a £16.5bn firesale of all its London properties which include the Citigroup tower in Canary Wharf, part of Leicester Square and the Louis Vuitton building in Bond Street. Critics believe the Irish bad bank would have been better holding on to London assets for the long term as yields on rent and prospects for capital growth are good, unlike Dublin, where offices lie empty throughout the city and chances of price increases are nil to slim over the next five years.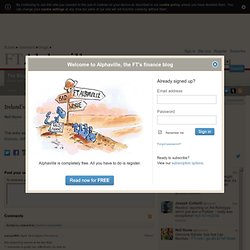 His reasoning seems to be two-fold. 1. everyone is guilty (so, effectively, no one is) 2. In the report (pp. 96) he makes the point that "There is regret, incredulity and guilt among them [the authorities, bankers] at the lending and funding policies pursued and the lack, at the time, of any recognition of what was happening. The credibility of their assertions is increased by the fact that a number of them personally suffered substantial losses in the crisis, easily avoidable if advance warnings had been available and recognised." So, even if they are 'guilty' of anything, their stupidity should absolve them of blame..
Ireland's speculative mania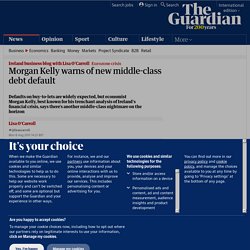 Professor Morgan Kelly delivering his lecture in Kilkenny An Irish academic best known for correctly calling the property crash four years ago has raised fresh concerns over a potential tsunami of debt default from "high rolling" professional classes. Professor Morgan Kelly said there is about €11bn (£9.6bn) tied up in domestic loans that were handed out to lawyers, doctors and estate agents for homes they can no longer afford – loans the banks are not counting as problematic.
Morgan Kelly warns of new middle-class debt default | Business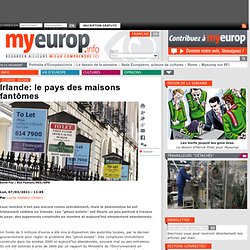 Leur nombre n'est pas encore connu précisément, mais le phénomène lui est tristement célèbre en Irlande. Les "ghost estate" ont fleuris un peu partout à travers le pays: des logements construits en nombre et aujourd'hui simplement abandonnés. Un fonds de 5 millions d'euros a été mis à disposition des autorités locales, par le dernier gouvernement pour régler le problème des "ghost estate" . Des complexes immobiliers construits dans les années 2000 et aujourd'hui abandonnés, souvent mal ou pas entretenu.
Irlande: le pays des maisons fantômes
Ireland Sets Up Its 'Bad Bank' Agency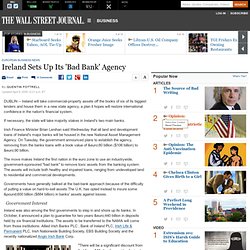 By QUENTIN FOTTRELL DUBLIN -- Ireland will take commercial-property assets off the books of six of its biggest lenders and house them in a new state agency, a plan it hopes will restore international confidence in the nation's financial system. If necessary, the state will take majority stakes in Ireland's two main banks.
Ireland's little secret - tracker mortgages | Business
Housing development in Mullingar, Ireland: Allied Irish Banks is considering debt forgiveness for struggling homeowners. Photograph: Cathal McNaughton/Reuters No soothing mood music from Bank of Ireland concerning mortgage holders who are in difficulty. Unlike Allied Irish Banks, which earlier this week said it would consider debt forgiveness for those who are struggling to keep up with payments, Bank of Ireland said at its annual results it will not pursue any such policy.
BARGAIN hunters will be tempted by thousands of cut-price houses and apartments over the coming months as NAMA offloads a huge stockpile of assets. Finance Minister Michael Noonan yesterday ordered the agency to start selling both commercial and residential property -- worth up to €2.7bn -- as soon as possible. NAMA will sit down with Ireland 's leading banks within the coming fortnight to organise finance for purchasers. The aim is to kick-start the beleaguered property market and provide a "floor" for prices. However it is a calculated risk, because NAMA could flood the market with cheap properties to the detriment of other sellers.
Bargain time as thousands of houses to be sold - National News, Frontpage
Buy-to-let tracker mortgage holders challenge PTSB
A new solution for mortgage arrears at under-pressure Irish banks? Photograph: Peter Morrison/AP Debt relief for ordinary homeowners rather than developers is centre stage in Ireland at the moment after new central bank figures show one in nine mortgages are either in arrears or restructured. We won't know until the end of the month what solutions the government will propose.
Repossession: why we need a new bank directive | Business
Repossession's terrible toll | Business
Repossessions affect homeowners from all walks of life. Photograph: Peter Macdiarmid/Getty I met a lady last week, a lovely lady with two children, whose husband had taken his own life. They had borrowed on a family home, gone into arrears and remortgaged to clear the arrears on a previous mortgage. They were involved in the services industry.
This is unedited version of my article in Irish Mail on Sunday (October 16): This week, we finally learned the official figure for what it would cost to address one of the biggest problems facing this country. According to the Keane Report - or the Inter-Departmental Mortgage Arrears Working Group Report - writing off negative equity for all Irish mortgages will cost "in the region of €14 billion". Doing the same just for mortgages taken out between 2006 and 2008 would require some €10 billion.
16/10/2011: Negative Equity and Debt Restructuring