Fausse crise ?
A couple years ago, we discussed how Universal Music CEO Doug Morris gleefully explained how clueless he was about technology -- while also being quite ignorant of basic economics and business models. It's amazing that Vivedi has allowed him to remain in charge. One of the more stunning statements was that the idea that you had to give up some money now to make more in the future just means "someone, somewhere, is taking advantage of you." Apparently, the guy has never heard of investing and has no bank accounts that earn interest, because that's just "someone, somewhere... taking advantage." With that said, the following really isn't all that surprising. Gerd Leonhard highlights the explanation of why concert video site FabChannel shut down :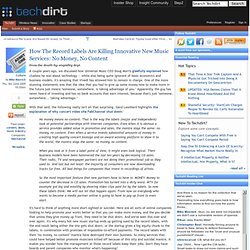 How The Record Labels Are Killing Innovative New Music Services:
Piratage, un faux probleme ?
Les Majors du disque auraient surévalué les dégâts du télécharge
La musique ne s'est jamais résumée à son industrie : 40 000 ans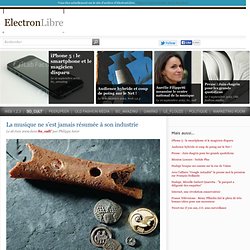 La mieux conservée de ces flûtes a été fabriquée dans un os d'aile de vautour de 20 cm de long. Elle dispose de cinq trous et de deux ouvertures en biseau à travers lesquelles l'instrumentiste soufflait. D'autres fragments de flutes taillées dans l'ivoire de défenses de mammouth font partie du lot. Au total, huit flûtes taillées dans l'ivoire ou des os d'oiseaux ont été découvertes dans cette caverne. Pour les auteurs de l'article de , .
UK Music Industry Economists Admit: Music Industry Getting Bigge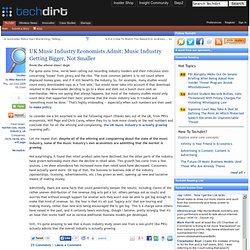 For quite some time, we've been calling out recording industry insiders and their ridiculous stats concerning "losses" from piracy and the like.
Do music artists fare better in a world with illegal file-sharin
Will Labels & Retailers Seize The Opportunity? Most UK music fans are still happier buying a CD than downloading, according to the latest research by research agency The Leading Question in conjunction with Music Ally. Even teens say they still prefer CDs.
hypebot: Survey: UK Music Buyers Prefer CD To Digital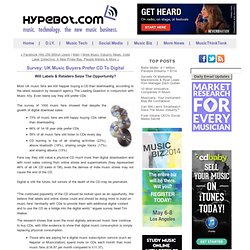 Swedes Confirm UK Study: Artist Income Rising
Daniel Johansson | The Swedish Music Industry in Graphs Report
Un beau graphique…
- Chuck D If you reduced the last decade's discussion about the music industry to a single word, it would be decline. And yet, observing music consumption over the same period, the opposite is true. More people are listening to music in more ways than ever before. On planes, in trains, in movies, on ads, at the gym, on the computer, at the desk, on the way to work, in the car, waking up, falling asleep, getting married, breaking up, doing housework, in the shower, in restaurants, cafes and bars and every second in between, music is present. In last year's MTV Music Matters survey of people aged 15-34, the percentage of people who claimed they liked music rose from 67% in 2007 to 85% in 2008.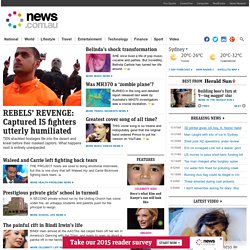 Don't believe the hype: music is doing better than ever | Articl
Pour l'UFC-Que choisir, la Culture ne connait pas la crise-
Le disque indé ne connaît pas (non plus) la crise
La musique numérique se porte bien, merci pour elle (mission Zel
L'un meurt, l'autre nait. C'est une loi de l'existence. Pour l'industrie de la musique, la fin du support physique, comprenez le CD, fut synonyme de plongée en enfer, d'auto-questionnement mais aussi de réinvention des métiers de la filière. Cette phase touche à sa fin, aujourd'hui.