Curiosité & autres
Otomata. New!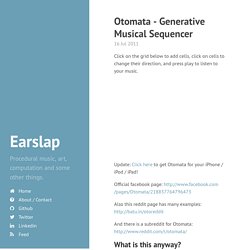 If you like Otomata, check out my new instrument Circuli by clicking here! Update: Click here to get Otomata for your iPhone / iPod / iPad! Chernobyl: the first month. The dust has gone already...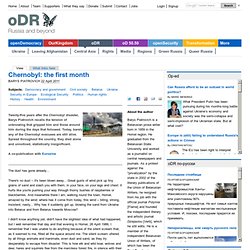 There's no dust -- it's been blown away... Great gusts of wind pick up tiny grains of sand and slash you with them, in your face, on your legs and chest: it hurts like you're pushing your way through thorny bushes of raspberries or blackberries. And meanwhile there I am, walking round the town, Homel, amazed by the wind: where has it come from today, this wind -- biting, strong, insistent, nasty...
Multiculturalisme. Egypte. Street Art. Banksy. Scientology. Bon sites d'info. Marijuana. With marijuana on the ballot in four U.S. states this November, most prominently California's Proposition 19, which would fully legalize the substance, the legalization of marijuana has become a hot topic of discussion in North America.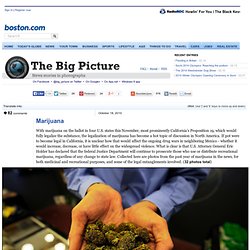 If pot were to become legal in California, it is unclear how that would affect the ongoing drug wars in neighboring Mexico - whether it would increase, decrease, or have little effect on the widespread violence. What is clear is that U.S. Attorney General Eric Holder has declared that the federal Justice Department will continue to prosecute those who use or distribute recreational marijuana, regardless of any change to state law.
Gravity simulator. The 20 Best Productivity and Personal Development Blogs | Freel. Why Your Blog Doesn't Make Money. Les Nouveaux Catholiques. Les catholiques veulent-ils se suicider ?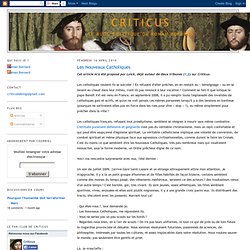 En refusant d'aller prêcher, en en restant au « témoignage » ou en se tenant au chaud dans leur milieu, n'ont-ils pas renoncé à leur vocation ? Comment se fait-il que lorsque le pape Benoît XVI est venu en France, en septembre 2008, il a pu remplir toute l'esplanade des Invalides de catholiques gais et actifs, et qu'on ne voit jamais ces mêmes personnes lorsqu'il y a des tensions en banlieue (pourquoi ne sortiraient-elles pas en force dans les rues pour dire « stop » ?) , ou même simplement pour prêcher dans la ville ? Les catholiques français, refusant tout prosélytisme, semblent se résigner à mourir sans même combattre.
Photo. Lifestyles. Blog rock. Veille. Blogging. Finlande. Modèle scandinave. Pearlers.
---