Crise bancaire
Get flash to fully experience Pearltrees
Quiconque commet des erreurs doit en subir les conséquences, y compris les banquiers. Depuis le début de la crise, il y a maintenant 5 ans, cette règle fondamentale de l'économie de marché est bafouée, déplore la Zeit.
By DAVID ENRICH And CARRICK MOLLENKAMP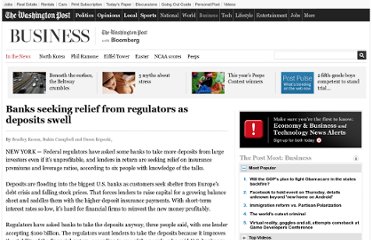 Regulators have asked banks to take the deposits anyway, three people said, with one lender accepting $100 billion. The regulators want lenders to take the deposits because it improves the stability of the financial system, according to one of the people, who said U.S. banks are viewed as places of strength. Some of the largest ones have talked with regulators about softening rules for ratios that measure capital and assets, according to the people, who asked not to be identified because talks are private.
La Société Générale dont le titre a perdu près de 48% depuis le début de l'année a décidé d'agir.
Wed Sep 14, 2011 2:32pm BST (From www.ifre.com) By Gareth Gore
(Updates with ECB lending dollars to two banks in 15th paragraph.) Sept. 14 (Bloomberg) -- European banks are losing deposits as savers and money funds spooked by the region's debt crisis search for havens, a trend that could worsen economic and financial conditions. Retail and institutional deposits at Greek banks fell 19 percent in the past year and almost 40 percent at Irish lenders in 18 months.
Le dernier bilan de la Fed montre qu'elle a racheté pour 1 647 milliards de dollars de titres du Trésor , dans le cadre de sa politique monétaire dite QE (ligne 1 du document 1) qui sont financés par 1 701 milliards de dépôts de banques (ligne 1 du document 2), Document 1 ( actif ) : Document 2 ( passif ) :
- Dollar et yuan.
Le débat qu'a provoqué l'intervention à Jackson Hole de Christine Lagarde, Directeur Général du FMI, a donné lieu à une dramatisation excessive et pu donner l'impression que cette recapitalisation représentait une tache impossible.
- La faillite de Lehman Brother annoncée à Times Square le 15 septembre 2008.
On August 28th the IMF's new chief Christine Lagarde was bombarded with criticism after she insisted that Europe's weakest banks need urgent recapitalization in order to curb contagion in the euro crisis. Her main critics were ECB president Jean-Claude Trichet and European Commissioner for Economic and Monetary Affairs Olli Rehn, who countered that Europe's banks do not need liquidity or fresh capital.
Il est temps d'arrêter la recréation.
<a href="http://ad.doubleclick.net/jump/ifre.com/ros;type=banner_top;sz=728x90;ord=635002347326406250?"