Apocalypse Now
European banks: Gone ECBing
La route de la prospérité est devant nous !
Bienvenue sur Objectif ECO Quelles que soient nos opinions, l'argent tient une place centrale dans nos vies. Combien en gagner pour être satisfait ?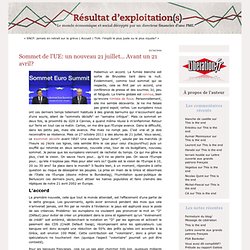 Habemus un accord.
Sommet de l'UE: un nouveau 21 juillet... Avant un 21 avril
EBA: €106bn of bank capital needed — we think
Le débat sur la recapitalisation des banques est le type même de « self fulfilling prophecy ». A force de ne pas résoudre la crise grecque, les Gouvernements de l'Eurozone ont cré é un environnement de crise qui a accru la vulnérabilité intrinsèque des banques européennes. Leur inaction a rendu le problème quasi insoluble.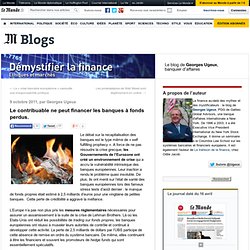 Le contribuable ne peut financer les banques à fonds perdus
Multi-trillion plan to save the eurozone being prepared
Bank of China, l'une des quatre grandes banques commerciales chinoises, a interrompu certaines opérations de change, les swaps , et les opérations à terme sur les changes ( forwards ), avec la Société générale, le Crédit agricole et la BNP, rapporte mardi 20 septembre un quotidien économique chinois.
Bank of China suspend des opérations avec trois banques françaises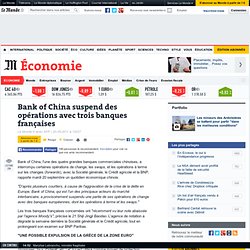 High Noon Approaching for Greece? | afoe | A Fistful of Euros | European Opinion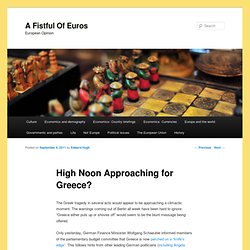 The Greek tragedy in several acts would appear to be approaching a climactic moment. The warnings coming out of Berlin all week have been hard to ignore: "Greece either puts up or shoves off" would seem to be the blunt message being offered. Only yesterday, German Finance Minsister Wolfgang Schaeuble informed members of the parliamentary budget committee that Greece is now perched on a "knife's edge" .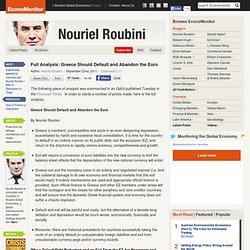 Author: Nouriel Roubini · · Share This Print The following piece of analysis was summarized in an OpEd published Tuesday in the Financial Times . In order to clarify a number of points made, here is the full analysis.
Nouriel Roubini's Global EconoMonitor » Full Analysis: Greece Should Default and Abandon the Euro
26/09/2011: Greek crisis and exit strategy
At last - an excellent summary of the Greek crisis possible outcomes and exit strategies, courtesy of BBC (link here ). The bottom line is that no matter what Greece and Troika do or fail to do, the crisis will either move onto a full-blow economic implosion of Greece or global meltdown. This puts Greek dilemma, from euro area's perspective, squarely into the category of the choices faced by a patient with gangrened leg: to cut or to die.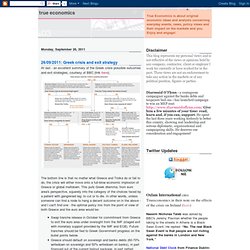 As Greece Denies, Germany Begins Greek Default Preparations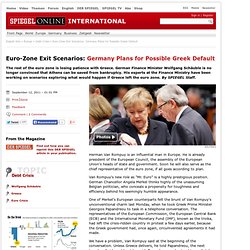 Herman Van Rompuy is an influential man in Europe. He is already president of the European Council, the assembly of the European Union's heads of state and government. Soon he will also serve as the chief representative of the euro zone, if all goes according to plan.
Euro-Zone Exit Scenarios: Germany Plans for Possible Greek Default - SPIEGEL ONLINE - News - International
Billet invité.
LES FAISEURS DE MIRACLE SONT DES BONIMENTEURS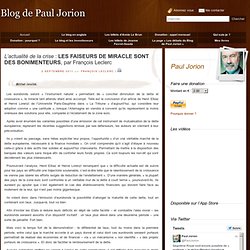 La Poste rattrapée par la crise grecque, Actualités
2012, l'année sans crédit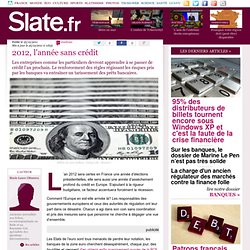 - Billets de cent dollars.
Le soulagement avec lequel, tous les ans, puis tous les mois, puis presque toutes les semaines, l'on apprend que le système est sauvé, prouve on ne peut mieux qu'il touche à sa fin. Il ne s'agit pas seulement de l'euro ou de la dette. Plusieurs ombres, venues du fond de notre histoire, planent aujourd'hui sur la France.
Avec la crise, c'est l'ancien monde qui meurt
Going Dutch – One Possible Solution To the Euro Debt Crisis? | afoe | A Fistful of Euros | European Opinion
Looking back over the last 18 months of Europe's debt crisis, European Central Bank Executive Board member Lorenzo Bini Smaghi recently invoked Winston Churchill's famous quip, "You can always count on Americans to do the right thing — after they've tried everything else." Europeans too, he assured his audience would also get it right, eventually.
L e 2 janvier 1672, ruiné, Charles II, roi d'Angleterre, déclarait un «stop de l'échiquier», il suspendait sa dette pour un an.
Entre les marchés et les Etats, c'est la guerre!
Faut-il taxer les riches ? | Contrepoints
Taxer les riches ? Quelle riche idée !
Une idée de riche Taxer les riches ?
Courbe de Laffer
Un article de Wikipédia, l'encyclopédie libre.
Faire payer les riches, ça ne paie pas | Contrepoints
Eurobonds, euro fort et euro faible
Les Euro Obligations: un emplâtre sur une jambe de bois
Dette : le mythe du remboursement par l'inflation
A court de solutions politiques pour sortir de la crise
Central bankers to the rescue?