Info
Téléfilm fantastique De : Dustin Rikert Synopsis : Max Schmucker, un sénateur grincheux, mène une grande campagne visant à interdire le «mythe» du Père Noël. Malheureusement, le politicien parvient à convaincre les populations du monde entier de rejoindre sa cause. Le Père Noël perd alors ses pouvoirs magiques et le réveillon est menacé. Miley et Zach, deux gamins espiègles et débrouillards, décident de cacher le vieil homme dans la grange de leur ferme de l'Arizona et de l'aider à retrouver ses pouvoirs avant le réveillon.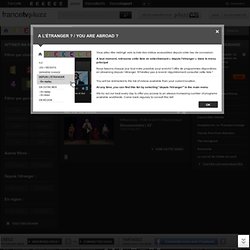 voir ou revoir les programmes de france télévisions - France Télévisions
Saleh vows not to quit as protests spread
SANAA (AFP) - Yemeni President Ali Abdullah Saleh vowed on Monday not to quit under popular pressure as demonstrations demanding his ouster spread across the country and the death toll in protests rose to 12. Saleh, whose long reign makes him one of the Middle East's great survivors, said the protests were "not new" and accused his opponents of fuelling the demonstrations. "If they want me to quit, I will only leave through the ballot box," he told a news conference as vast crowds of protesters, among them opposition MPs, gathered outside Sanaa University to demand he step down. "The opposition are raising the level of their demands, some of which are illicit," Saleh said. Tens of thousands of protesters Monday took to the streets of Sanaa, the southern city of Aden, the northern city of Saada - stronghold of Shiite Houthi rebels - the western port city of Al Hudaydah and in Taez, south of Sanaa.