Info
Pluzz.fr - voir ou revoir les programmes de france télévisions - France Télévisions. Voir ou revoir les programmes de france télévisions - France Télévisions. Film fantastique De : Peter Jackson Synopsis : Bilbo Baggins continue son voyage périlleux en compagnie des treize nains, dirigés par Thorin Oakenshield, afin de regagner la Montagne solitaire et le royaume perdu des nains d'Erebor.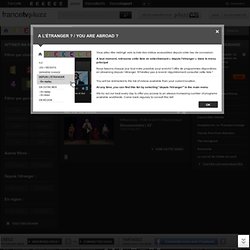 En chemin, ils rencontrent Beorn, être étrange qui a la capacité de changer de peau, et subissent une attaque d'araignées géantes dans la Forêt Noire. Après s'être échappés des mains des Elfes des bois, dont Tauriel et Legolas, les nains se rendent à Lacville, avant de rejoindre La Montagne Solitaire, où ils doivent encore affronter le dragon Smaug détenteur d'un fabuleux Trésor. Entretemps, Bilbo aura mis la main sur l'anneau de pouvoir, «le précieux» de Gollum... Gulfnews. Saleh vows not to quit as protests spread. SANAA (AFP) - Yemeni President Ali Abdullah Saleh vowed on Monday not to quit under popular pressure as demonstrations demanding his ouster spread across the country and the death toll in protests rose to 12.
Saleh, whose long reign makes him one of the Middle East's great survivors, said the protests were "not new" and accused his opponents of fuelling the demonstrations. "If they want me to quit, I will only leave through the ballot box," he told a news conference as vast crowds of protesters, among them opposition MPs, gathered outside Sanaa University to demand he step down. "The opposition are raising the level of their demands, some of which are illicit," Saleh said. Tens of thousands of protesters Monday took to the streets of Sanaa, the southern city of Aden, the northern city of Saada - stronghold of Shiite Houthi rebels - the western port city of Al Hudaydah and in Taez, south of Sanaa. Al-Masry Al-Youm: Today's News from Egypt.
Slate | Magazine. Le Monde.fr : Actualité à la Une. Rue89 | Site d'information et de d?bat sur l'actualit?, ind?pendant et participatif. La Une. Actualités. The Independent | News | UK and Worldwide News | Newspaper. Latest news, comment and reviews from the Guardian.
---