Info
Comédie dramatique De : Régis Roinsard Synopsis : Au printemps 1958, la jeune Rose Pamphyle vit avec son père, un veuf bourru, dans un petit village normand. Son destin est déjà tout tracé : elle est promise au fils du garagiste et à une existence de femme au foyer, docile et soignée. Mais Rose voit les choses d'un autre oeil. Elle s'enfuit pour Lisieux, où Louis Echard, patron d'un cabinet d'assurance, cherche une secrétaire.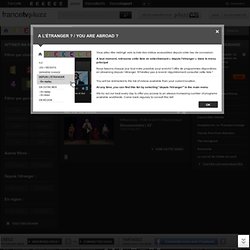 voir ou revoir les programmes de france télévisions - France Télévisions
Saleh vows not to quit as protests spread
SANAA (AFP) - Yemeni President Ali Abdullah Saleh vowed on Monday not to quit under popular pressure as demonstrations demanding his ouster spread across the country and the death toll in protests rose to 12. Saleh, whose long reign makes him one of the Middle East's great survivors, said the protests were "not new" and accused his opponents of fuelling the demonstrations. "If they want me to quit, I will only leave through the ballot box," he told a news conference as vast crowds of protesters, among them opposition MPs, gathered outside Sanaa University to demand he step down. "The opposition are raising the level of their demands, some of which are illicit," Saleh said. Tens of thousands of protesters Monday took to the streets of Sanaa, the southern city of Aden, the northern city of Saada - stronghold of Shiite Houthi rebels - the western port city of Al Hudaydah and in Taez, south of Sanaa.
S'abonner au Monde à partir de 1 € Découvrez les avantages de l'Édition abonnés Consultez votre journal et ses suppléments partout et 24 h / 24 h, sur Web, tablettes et iPhone. Accédez aux articles payants et aux 25 années d'archives du Monde depuis 1987. Profitez des grands dossiers de la rédaction du Monde , de l'actualité remise en perspective.