Flipped Classrooms
Five Best Practices for the Flipped Classroom. Ok, I'll be honest.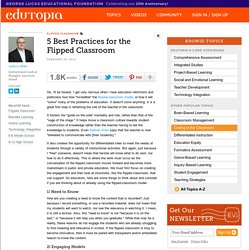 I get very nervous when I hear education reformists and politicians tout how "incredible" the flipped classroom model, or how it will "solve" many of the problems of education. It doesn't solve anything. It is a great first step in reframing the role of the teacher in the classroom. Flipped Classroom.
How flipping works for you Save time; stop repeating yourself Record re-usable video lessons, so you don't have to do it again next year.
It's easy to make minor updates to perfect lessons over time once the initial recording is done. Let students take control of their learning Not all students learn at the same pace. Flipped_Classroom_Webinar_-_Flash_(Medium)_-_20120 - TSCWebinars. Flipped classrooms give every student a chance to succeed. By Greg Green, Special to CNN Editor's note: Greg Green is the principal at Clintondale High School in Clinton Township, Michigan.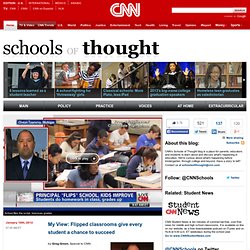 I'm a principal at Clintondale High, a financially challenged school near Detroit. I'm in charge of doing my best to make sure that Clintondale students get the best education possible when they walk through our doors.
---