w3c
Evaluating Web Sites for Accessibility: Overview. "Evaluating Websites for Accessibility" is a multi-page resource suite that outlines different approaches for evaluating websites for accessibility.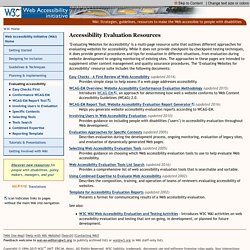 While it does not provide checkpoint-by-checkpoint testing techniques, it does provide general procedures and tips for evaluation in different situations, from evaluation during website development to ongoing monitoring of existing sites. The approaches in these pages are intended to supplement other content management and quality assurance procedures. The "Evaluating Websites for Accessibility" resource suite includes the following documents: Web Accessibility Initiative (WAI) - home page. WAI: Strategies, guidelines, resources to make the Web accessible to people with disabilities What WAI Does WAI develops...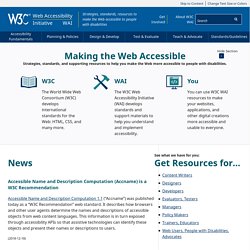 WCAG 2.0 Home Page. This publication has been funded in part with Federal funds from the U.S.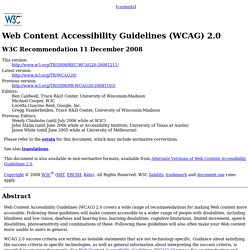 Department of Education, National Institute on Disability and Rehabilitation Research (NIDRR) under contract number ED05CO0039. The content of this publication does not necessarily reflect the views or policies of the U.S. Department of Education, nor does mention of trade names, commercial products, or organizations imply endorsement by the U.S. Government.
---