Styles
I did my fair share of testing this site on an iPad during development.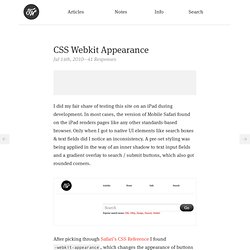 CSS Webkit Appearance
css xml attributes - RE: CSS and XML attributes
How do you use XML attributes in CSS declarations
Demystifying CSS At-Rules
CSS at-rules (or @rules) are so-named because they utilize an @ character.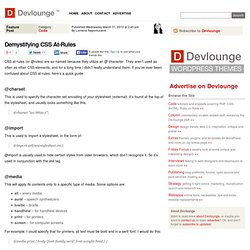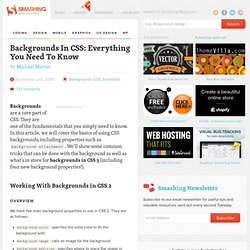 Backgrounds in CSS
Advertisement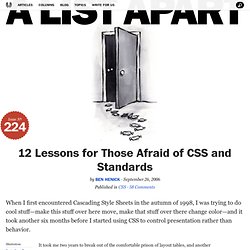 12 Lessons for Those Afraid of CSS and Standards
When I first encountered Cascading Style Sheets in the autumn of 1998, I was trying to do cool stuff—make this stuff over here move, make that stuff over there change color—and it took another six months before I started using CSS to control presentation rather than behavior. It took me two years to break out of the comfortable prison of layout tables, and another two years before I could use CSS to produce layouts that were originally intended for tables. Even though I was forced during that time to deal with such anachronistic works of art as Netscape 4.0 and Internet Explorer 5.0 for Windows, the moral of the story should be clear: it took me a long while to achieve genuine mastery of CSS. There are plenty of excellent books and articles out there, including many written by the contributors to this publication.