Rss
Photo bloggers and webmasters: Most popular newsreaders? (updated
You may have read or participated in one of the Blog Statistics projects at PhotoNovice.net which featured the most popular posts among various websites and blogs! Picking up on that idea (with Photonovice's blessings), we have a new experiment, if you have a website or blog with an RSS feed, what newsreaders are people using to read your feed? If you want to add your website or blog to this, you can very easily get to the numbers if you are using Feedburner in four easy steps: logon to your feedburner account Under the "Analyze" tab, look for the "Feed Stats" menu in the left column, and click on "Subscribers" A pie chart will load showing the percentages of each newsreader program locate the percentages of each newsreader and send an email with your numbers. Be sure to include the name of your blog and RSS feed or anything else you want mentioned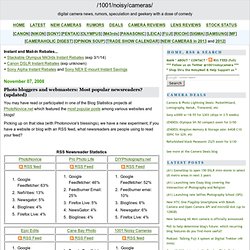 Feeds basics 101: using Feedburner - why, how, & more ways to publicise your blog (part 3)
3. How to use Feedburner UPDATE: for the impatient, here are 12 quick steps to take to use Feedburner for your blog ; you can refer to this post as a reference guide. This part 3 is an introductory guide, part review part practical tutorial, to the fab service Feedburner , focusing mainly on Blogger users but with info of interest to users of other blogging platforms too - with a basic intro to Feedburner, an overview of its services and howtos and tips on using Feedburner and getting the most out of it.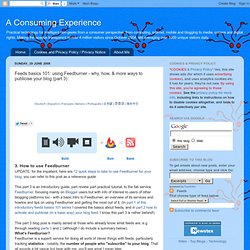 A Better Twitter Feed for Your Web Site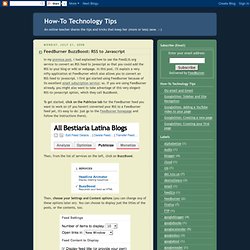 FeedBurner BuzzBoost: RSS to Javascript
In my previous post , I had explained how to use the Feed2JS.org service to convert an RSS feed to javascript so that you could add the RSS to your blog or wiki or webpage. In this post, I'll explain a very nifty application at Feedburner which also allows you to convert an RSS feed to javascript. I first got started using Feedburner because of its excellent email subscription service ; so, if you are using Feedburner already, you might also want to take advantage of this very elegant RSS-to-javsacript option, which they call BuzzBoost. To get started, click on the Publicize tab for the Feedburner feed you want to work on (if you haven't converted your RSS to a Feedburner feed yet, it's easy to do: just go to the Feedburner homepage and follow the instructions there). Then, from the list of services on the left, click on BuzzBoost . Then, choose your Settings and Content options (you can change any of these options later on).
Are you using FeedBurner? You should be!
How To Make An RSS Feed
Posted in Tech blog on February 10th, 2010 by Pingdom Over the past few months there has been plenty of speculation around the Web that Twitter 's growth has stalled, but if we look at activity on Twitter in terms of the number of tweets, this is far from the truth. According to our research, Twitter is as of December processing more than one billion tweets per month . January passed 1.2 billion, averaging almost 40 million tweets per day. This is significantly more than Twitter was processing just a few months ago. This increase in activity is also in line with a statement that Evan Williams, CEO of Twitter, made on January 12: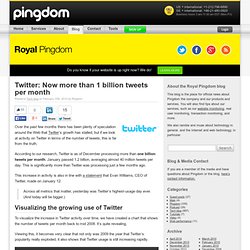 Twitter: Now more than 1 billion tweets per month | Royal Pingdom
A blog is a great tool with which to express your opinions, build a community, network with others and drive traffic to your website . However, a lot of designers are not sure how to get started or what to blog about. I've been blogging for a couple of years now, but I've been blogging effectively (in my opinion) for only several months. My blog posts used to go unnoticed, and I've now realized that this was because of a lack of structure and commitment. So, what's involved in the process of writing an effective blog post? 1.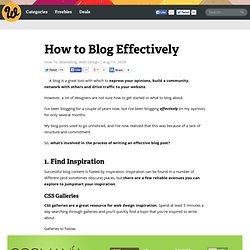 How to Blog Effectively
Choosing a Blogging Platform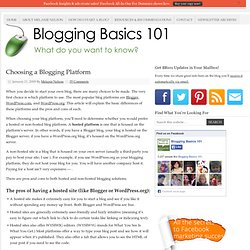 When you decide to start your own blog, there are many choices to be made. The very first choice is which platform to use. The most popular blog platforms are Blogger , WordPress.com , and WordPress.org . This article will explain the basic differences of these platforms and the pros and cons of each. When choosing your blog platform, you'll need to determine whether you would prefer a hosted or non-hosted blog platform. A hosted platform is one that is housed on the platform's server.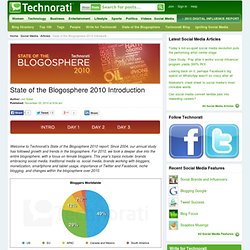 Welcome to Technorati's State of the Blogosphere 2010 report. Since 2004, our annual study has followed growth and trends in the blogosphere. For 2010, we took a deeper dive into the entire blogosphere, with a focus on female bloggers. This year's topics include: brands embracing social media, traditional media vs. social media, brands working with bloggers, monetization, smartphone and tablet usage, importance of Twitter and Facebook, niche blogging, and changes within the blogosphere over 2010. The 2010 edition of State of the Blogosphere finds blogs in transition—no longer an upstart community, now with influence on mainstream narratives firmly entrenched, with bloggers still searching for the next steps forward.
RSS Resources Directory
Encyclopedia for Twitter Hashtags
If you are a fan of the Live Bookmarks feature, you might wonder how to make them update quicker since the default update time is once per hour, and there isn't a place in the interface to configure this. You can always manually right-click on the bookmark and choose Reload Live Bookmark, but that's hardly efficient if you have dozens of feeds bookmarked. You can change the default interval for all live bookmarks with a config setting.
Change update interval of Live bookmarks in Firefox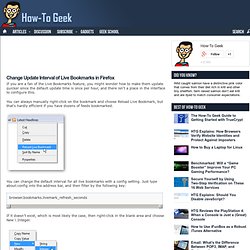 RFC 822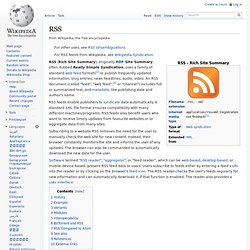 RSS Rich Site Summary (originally RDF Site Summary , often dubbed Really Simple Syndication ) is a family of web feed formats used to publish frequently updated works—such as blog entries, news headlines, audio, and video—in a standardized format. [ 2 ] An RSS document (which is called a "feed", "web feed", [ 3 ] or "channel") includes full or summarized text, plus metadata such as publishing dates and authorship. RSS feeds benefit publishers by letting them syndicate content automatically. A standardized XML file format allows the information to be published once and viewed by many different programs. They benefit readers who want to subscribe to timely updates from favorite websites or to aggregate feeds from many sites into one place. RSS feeds can be read using software called an " RSS reader ", "feed reader", or " aggregator ", which can be web-based , desktop-based , or mobile-device-based.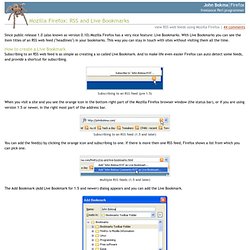 Since public release 1.0 (also known as version 0.10) Mozilla Firefox has a very nice feature: Live Bookmarks. With Live Bookmarks you can see the item titles of an RSS web feed ("headlines") in your bookmarks. This way you can stay in touch with sites without visiting them all the time. How to create a Live Bookmark
Mozilla Firefox: RSS and Live Bookmarks
Most Popular Feeds
Internet technology hosted by Berkman Center Tuesday, July 15, 2003 Contents What is RSS? RSS is a Web content syndication format.
Weblogs
Many libraries and librarians publish weblogs (also called "blogs"). For more information on blogs in general, see the Blog entry in Wikipedia. Blogs with Google PageRank of 7 or more are listed in bold . See also 2006 Best Blogs for another selected list, and Weblogs - Medical Librarianship for a topical subsection. [ edit ] Individual Weblogs
Royal Pingdom's The blog platforms of choice among the top 100 blogs
Posted in Tech blog on January 15th, 2009 by Pingdom We all know that WordPress is popular among bloggers, and Movable Type as well. But HOW popular? And what other platforms are being used?
Download this layout (25kb zip file). Percentage dimensions of the holy grail layout All the dimensions are in percentage widths so the layout adjusts to any screen resolution. Vertical dimensions are not set so they stretch to the height of the content. Maximum column content widths To prevent wide content (like long URLs) from destroying the layout (long content can make the page scroll horizontally) the column content divs are set to overflow:hidden.
RSS Resources
Software Garden ListGarden™ Program: ListGarden Product Description New Version 1.3 Now Available! Features: Creates and maintains RSS feeds Produces both XML and optional human-readable companion HTML Runs either on your PC or on a web server Windows, Mac OS X, and Linux Open source Requires no knowledge of XML or the RSS data format Tuned for quick manual additions of new items and simple editing Supports enclosures (New in Version 1.3)
Listgarden
How to Explain RSS the Oprah Way
Implement RSS feeds on your site
RSS 2.0 specification
RSS feed Plugin for Joomla 1.5 - final - Kulkul's World - Nguyễn Thanh Thảo
Cut n' Paste JavaScript RSS Feed
Weblogs Directory