Mambo
Phpbb. Mambo CMS: Project Filelist. Mambo > Projects > COAddOns > Files > Browse Frs Package. Upgrading from Mambo 4.5.2 to Joomla. I recently decided to bite the bullet and upgrade my site from Mambo 4.5.2 to the latest release of Joomla.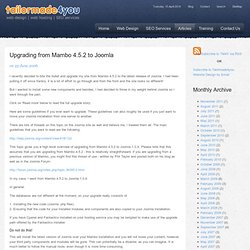 I had been putting it off since frankly, it is a lot of effort to go through and from the front end the site looks no different! But I wanted to install some new components and besides, I had decided to throw in my weight behind Joomla so I went through the pain. SourceForge : View Release. The home of Community Builder - Re:Login box text not working, shows _USERNAME - Joomlapolis Forums. It seems languages are quite complex in Mambo 4.6!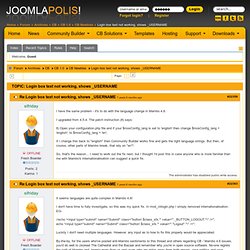 I don't have time to fully investigate, so this was my quick fix. In mod_cblogin.php I simply removed internationalisation. EG- Joomla! / Mambo - Joomla Forums - Joomlaya.com.
---