layout
Get flash to fully experience Pearltrees
A site with fixed-position navigation is one that never allows the user to lose site of the directory links as they scroll. This simple trick makes for a site that is incredibly easy to navigate and is ideally suited for specific types of content. Below we'll take a look at both the most common and the most unique uses of fixed navigation in web design. Blogs One of the most common places you'll find fixed navigation is on blogs, particularly Tumblr blogs. The reason this format works so well for blogs is that they are notoriously long and therefore involve a lot of scrolling.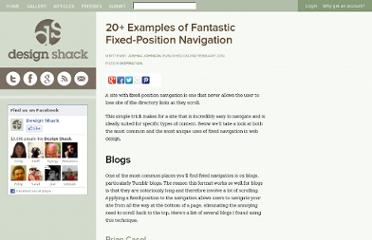 Information According to w3c.org we should all be laying out our pages this way. Tables are a thing of the past and should be used only for tabular information.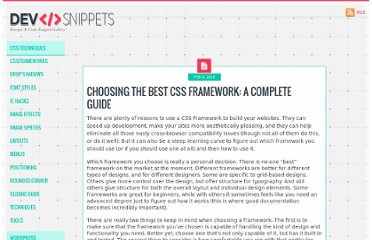 There are plenty of reasons to use a CSS Framework to build your websites.
Floatutorial takes you through the basics of floating elements such as images, drop caps, next and back buttons, image galleries, inline lists and multi-column layouts.