Iphone
Auto-Join Wi-Fi Hotspots with iPhone OS 3.0 | Ted Landau's User ... If you've ever connected to the Internet at the myriad of popular Wi-Fi spots, such as in hotels, coffee shops, and airports, you know the drill.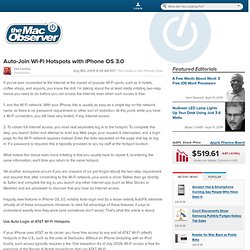 I'm talking about the at least mildly irritating two-step dance you need to do before you can access the Internet, even when such access is free: 1. Join the Wi-Fi network. With your iPhone, this is usually as easy as a single tap on the network name, as there is no password requirement or other sort of restriction. At this point, while you have a Wi-Fi connection, you still have very limited, if any, Internet access. The Complete Guide to Using iOS 4. Top 10 Must Have iPhone Apps for Bloggers.
The web is going mobile and it is going faster than anyone can think.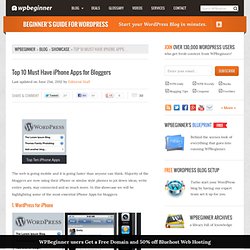 Majority of the bloggers are now using their iPhone or similar style phones to jot down ideas, write entire posts, stay connected and so much more. In this showcase we will be highlighting some of the most essential iPhone Apps for bloggers. 95 iPhone Apps for Web Designers - iPhone Apps by Category that Web Designers Would Find Useful. If you have an iPhone or iPod touch, you have probably downloaded some of the popular games available for the device.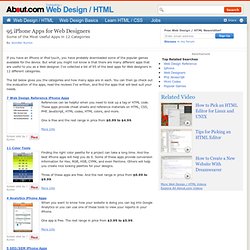 But what you might not know is that there are many different apps that are useful to you as a Web designer. I've collected a list of 95 of the best apps for Web designers in 12 different categories. The list below gives you the categories and how many apps are in each. You can then go check out the evaluation of the apps, read the reviews I've written, and find the apps that will best suit your needs. It's 3.0 Or Die For New iPhone Apps. Apple has just sent out an email alert to iPhone developers that any new app submitted to the App Store will have to be ready for the iPhone 3.0 software, which is due shortly (probably around Apple's WWDC event in June).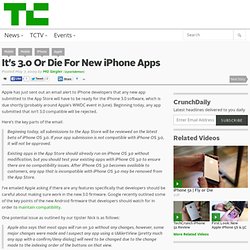 Beginning today, any app submitted that isn't 3.0 compatible will be rejected. Here's the key parts of the email: PdaNet -- Use your iPhone as a Wireless Router for your PC/Mac. Has been the best tethering software for Windows Mobile phones and Palm OS phones.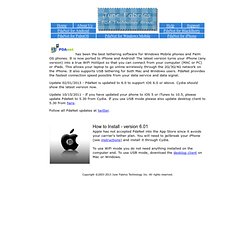 It is now ported to iPhone and Android! The latest version turns your iPhone (any version) into a true WiFi HotSpot so that you can connect from your computer (MAC or PC) or iPads. This allows your laptop to go online wirelessly through the 2G/3G/4G network on the iPhone. It also supports USB tethering for both Mac and Windows users. PdaNet for iPhone FAQ. Tutorial: Turn Your iPhone Into a Wireless Modem | Gadget Lab. Here at Wired.com a few of us were excited about turning our iPhones into wireless modems with the $10 NetShare application — but none of us could get it to work.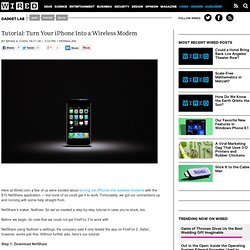 Fortunately, we got our connections up and running with some help straight from NetShare's maker, Nullriver. So we've created a step-by-step tutorial in case you're stuck, too. Before we begin, do note that we could not get FireFox 3 to work with NetShare using Nullriver's settings; the company said it only tested the app on FireFox 2. Safari, however, works just fine. How to use your iPhone as a modem for your PC or Mac | The iPhone User Guide. Developer Connection - iPhone Dev Center - Getting Started Docs. 5 Ways to Use Twitter on your iPhone - iPhone Hacks. It has been almost three months and it would have been inappropriate on my part if I had not written about how to use the ultra popular social networking and micro blogging service aka Twitter on your iPhone.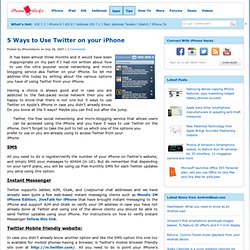 So let me address this today by writing about the various options you have of using Twitter from your iPhone. Having a choice is always good and in case you are addicted to the fast-paced social network then you will happy to know that there is not one but 5 ways to use Twitter on Apple's iPhone in case you didn't already know.
---