Excel
How to create a thematic map in Excel. How do you create a thematic map like the one above for your next presentation if you don't have a mapping tool?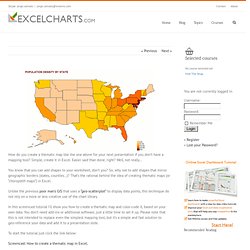 Simple, create it in Excel. Easier said than done, right? Well, not really… 039;s Visual Basic Tips. This article teaches you a few easy ways to write better VB code.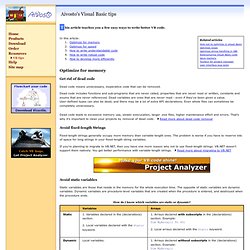 Optimize for memory Get rid of dead code Dead code means unnecessary, inoperative code that can be removed. Quick Excel Chart VBA Examples. The use of VBA in Microsoft Excel charting is a topic that would fill a large volume.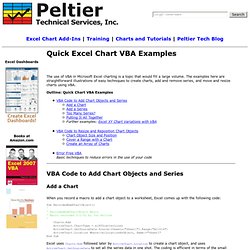 The examples here are straightforward illustrations of easy techniques to create charts, add and remove series, and move and resize charts using VBA. Outline: Quick Chart VBA Examples VBA Code to Add Chart Objects and Series Add a Chart When you record a macro to add a chart object to a worksheet, Excel comes up with the following code: 10 ways to reference Excel workbooks and sheets using VBA | 10 Things | TechRepublic.com.
---